Zo in the Roosting Tree (Zo the Crow #1) (Paperback)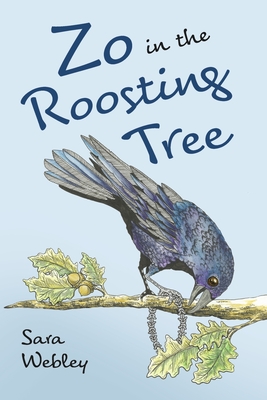 Description
---
"I never did tell my parents what happened that summer. I never said a word about that morning when I woke up in the forest with glossy black wings and flew. When I joined a mob of crows and chased off an owl. When I surfed the waves with a snapping turtle. When I saved my birdy friend from a bobcat's jaws. When a pair of crows became my second family. When I flew!"

Zo in the Roosting Tree tells the story of a young crow who is really a human girl inside. This warm, nature-based fantasy will teach readers about clever, playful, family-loving crows. It's perfect for kids and parents who love nature, birds, and magic.

One morning in the Maine woods, an eleven-year-old girl named Jae wakes up on top of a tall tree. Looking down at her beautiful black feathers, stretching out her long wings, Jae knows that she has become Zo the crow. And she guesses that if Jae is now living inside Zo, then Zo must be living inside Jae. Girl and crow. Crow and girl. But where is Jae?

When Zo meets her loving crow-parents Corbin and Merla, they teach her how to fly—and land without falling beak-first in the dirt! Zo learns how to catch yummy grasshoppers and escape hungry owls. With her best friend, a goofy cardinal named Rufus, she plays games on telephone wires, soars over treetops, and surfs the wind. Zo saves Rufus from a bobcat, steals food from otters, meets a bossy goose . . . and best of all, she flies!

Being a crow can be confusing and scary sometimes, but Zo loves her new life. She has learned to use her instincts and her birdy smarts, with some help from her animal friends. Still, Zo is torn between two lives. And once she discovers the dangers of crow life—owls and bobcats and cars—Zo starts to miss her human family.

One day, Zo sees the human girl Jae paddling a canoe with her brother Griff. Zo visits Jae at her human family's cabin across the lake, and they decide it's time to switch places again. But how?

Zo asks her friend, a mysterious snapping turtle named Shelly, for the magic she needs to go home to her human family. Shelly explains about the "Switch" that allows animals and humans to change places and learn from each other. It's time for Zo and Jae to un-switch. But will Shelly the magical snapper be able to help Zo switch back from crow to human?
About the Author
---
When Sara Webley was ten years old, her grandmother's journal published Sara's poem about a lobster—minus the final stanza. Not too happy with Grandma's editing, Sara became an editor and writer herself, and she co-founded an editorial company. Her poetry has appeared in several journals.

As an author, Sara combines her love of animals with her love of books for young readers. Trained as an animal health technician, Sara has worked in the zoo and aquarium world, caring for seals, otters, porcupines, coyotes, snakes, monkeys, turtles, and other animals. She volunteers with hawks and owls at a nature center, where she met one very special crow.