Surviving: Stories, Essays, Interviews (Paperback)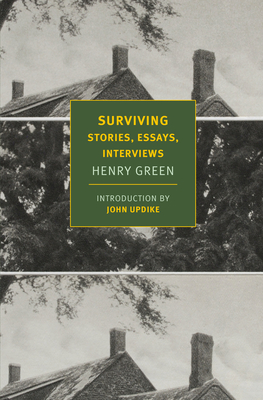 Description
---
A collection of short stories, journalism pieces, and various writings by the esteemed twentieth-century English novelist Henry Green.

Surviving presents a miscellany of Henry Green's writing, and is as reflective of his extraordinary and unclassifiable genius for the word as any of his great novels from Living to Loving to Nothing. Readers will find remarkable stories from the 1920s and 1930s; Green's telling of his time in the London Fire Brigade during the Blitz; a short, unpublished play, Journey out of Spain; journalism; and the hilarious interview that Terry Southern conducted for The Paris Review. Edited by the novelist Matthew Yorke, Green's grandson, Surviving also includes a memoir by Green's son, Sebastian Yorke, that is a brilliant portrait of this maverick master.
About the Author
---
Henry Green (1905-1973) was the pen name of Henry Vincent Yorke. Born near Tewkesbury in Gloucestershire, England, Green was educated at Eton and Oxford before starting work at his family's engineering firm, where he was employed for most of his life while also writing novels. During World War II, Green served on the London Fire Brigade. He wrote nine novels between 1926 and 1952, most of which have been reissued by NYRB Classics.

Matthew Yorke is the grandson of Henry Green and the author of three novels, including one book for young adults. He was born and currently lives in London.

John Updike was the author of over twenty novels, including Rabbit, Run and The Witches of Eastwick, along with several short story collections and works of poetry and criticism.

Sebastian Yorke is the son of Henry Green and, with the late novelist Emma Tennant, the father of Matthew Yorke.
Praise For…
---
"The written word is estranging, and Green liked it that way. He famously wrote that prose should offer 'a gathering web of insinuations . . . a long intimacy between strangers,' but that intimacy should above all be silent. . . . His radio broadcasts have a touch of the manifesto about them, as if laying down a path for the novel of the future, a way to capture something we've lost, some sense of 'what never can be said.'" —Michael Gorra

"With Green, we're presented with a singular kind of artist who, like the poets of ancient India and Greece, has nothing to offer us but delight." —Amit Chaudhuri

"The experience of reading Green, or so I find, is far more animating than the ordinary reading experience and extends far beyond the usual confines: It can be almost physical, as if the thought or sensation expressed on the page were being generated by one's own, not the author's mind. . . . One is mesmerized, thrilled, transported, often by the very recklessness entailed by an underlying and urgent purity of vision." —Deborah Eisenberg

"Nearer than almost any other to the spirit and what might be called the central nerve of our time." —Elizabeth Bowen

"The most gifted prose writer of his generation." —V.S. Pritchett

"One of the few really considerable English novelists of our time." —Angus Wilson

"I realized that in the used bookstore I had conflated the name of Julien Green, the French American novelist who inspired Highsmith, with that of Henry James, whom she imitated, to arrive by surprise at one of the great writers in English: Henry Green, who made his work with these kinds of mishearings, and of whom I had never even heard." —Sarah Nicole Prickett, Bookforum