The Leader's Bookshelf (Paperback)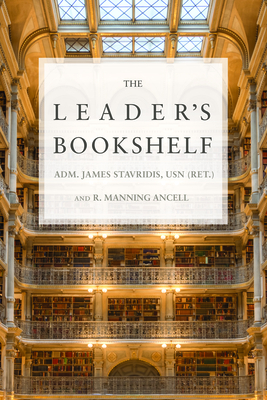 $24.95
This book is not in our store, but most are available for us to get in short order! Send us a message.
Description
---
For the last several years Adm. James Stavridis and his co-author, R. Manning Ancell, have surveyed over two hundred active and retired four-star military officers about their reading habits and favorite books, asking each for a list of titles that strongly influenced their leadership skills and provided them with special insights that helped propel them to success in spite of the many demanding challenges they faced. The Leader's Bookshelf synthesizes their responses to identify the top fifty books that can help virtually anyone become a better leader. Each of the works--novels, memoirs, biographies, autobiographies, management publications--are summarized and the key leadership lessons extracted and presented. Whether individuals work their way through the entire list and read each book cover to cover, or read the summaries provided to determine which appeal to them most, The Leader's Bookshelf will provide a roadmap to better leadership. Highlighting the value of reading in both a philosophical and a practical sense, The Leader's Bookshelf provides sound advice on how to build an extensive library, lists other books worth reading to improve leadership skills, and analyzes how leaders use what they read to achieve their goals. An efficient way to sample some of literature's greatest works and to determine which ones can help individuals climb the ladder of success, The Leader's Bookshelf is for anyone who wants to improve his or her ability to lead--whether in family life, professional endeavors, or within society and civic organizations.
About the Author
---
A 1976 distinguished graduate of the U.S. Naval Academy, ADM James Stavridis spent over thirty-five years on active service in the U.S. Navy. He commanded destroyers and a carrier strike group in combat, and served for seven years as a four-star admiral, culminating with four years as the sixteenth Supreme Allied Commander at NATO. He holds a PhD in international relations and was Dean of the Fletcher School of Law and Diplomacy at Tufts University. Admiral Stavridis has written six books and hundreds of articles on global security issues and leadership. A former lieutenant commander in the Navy Reserve with periods of active duty, R. Manning Ancell has worked in media for decades. The author of more than 200 articles in magazines, newspapers and journals, he has authored or co-authored six books, including Four-Star Leadership for Leaders and Who Will Lead? Senior Leadership in the United States Army. He lives in Norfolk, Virginia, with his wife.