Ghost Eaters: A Novel (Hardcover)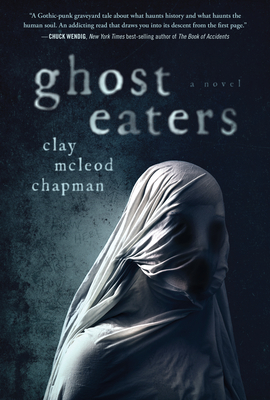 $21.99

Usually Ships in 1-5 Days
Staff Reviews
---
Ryan's December 2022 pick (1 of 3)
Wanna get haunted?
Ghost Eaters is a terrifying story of grief and addiction. A pill called Ghost that supposedly parts the veil and lets the user see their dearly departed? What could possibly go wrong?
This book is chock full of body horror, stunningly disturbing imagery, horrifying ghosts, and deeply upsetting portrayals of addiction.
I absolutely devoured it.
Clay McLeod Chapman is a master of horror. His ghosts crawl off the page and burrow under your skin, pushing their fingers into your brain, turning you into their own Haunted House, refusing to leave after you've finished the book, and even then, you will crave more.
So I ask again, wanna get haunted? (You do. You really, really do).
— From
Ryan
October 2022 Indie Next List
---
"A dark and chilling story about a group of friends who discover an addictive drug that allows them to see dead people. Well, more like forces, and it gets intense. This was impossible to put down, but please read it with the lights on!"
— Laura Harvey, Copper Dog Books, Beverly, MA
Description
---
"A Gothic-punk graveyard tale about what haunts history and what haunts the human soul. An addicting read that draws you into its descent from the first page."—Chuck Wendig, New York Times best-selling author of The Book of Accidents

One of Vulture's Best Horror Novels of 2022, this terrifying supernatural page-turner will make you think twice about opening doors to the unknown.

Erin hasn't been able to set a single boundary with her charismatic but reckless college ex-boyfriend, Silas. When he asks her to bail him out of rehab—again—she knows she needs to cut him off. But days after he gets out, Silas turns up dead of an overdose in their hometown of Richmond, Virginia, and Erin's world falls apart.
 
Then a friend tells her about Ghost, a new drug that allows users to see the dead. Wanna get haunted? he asks. Grieving and desperate for closure with Silas, Erin agrees to a pill-popping "séance." But the drug has unfathomable side effects—and once you take it, you can never go back.
About the Author
---
Clay McLeod Chapman writes novels, comic books, and children's books, as well as for film and TV. He is the author of the horror novels The Remaking, Whisper Down the Lane, and Ghost Eaters. He also co-wrote Quiet Part Loud, a horror podcast produced by Jordan Peele's Monkeypaw for Spotify. Visit him at claymcleodchapman.com.
Praise For…
---
One of Vulture's Best Horror Novels of 2022
One of Paste's Best Horror Books of 2022
One of Book Riot's Best Horror Novels of 2022
One of CrimeReads' Best Horror Fiction Books of 2022
September 2022 LibraryReads Pick
October 2022 Indie Next Pick

"Shades of Flatliners and addiction drama pepper this tale about a woman who learns her college sweetheart died of an overdose – from a drug that allows folks to see the dead."—USA Today

"Trainspotting meets Requiem For A Dream, rewritten as an avant-garde horror movie soundtracked by Nine Inch Nails."—Esquire

"A legitimately terrifying ghost story and also a thoughtful and smart (if grim) exploration of how addiction destroys lives, Ghost Eaters should make Clay McLeod Chapman a star."—Vulture

"Full of great character moments, unbelievably tense hauntings, and an emotional core that runs so deep you'll still be unpacking it long after the last page."—Paste

"A keenly observant narrative that, with a mix of body horror and just plain horror, plucks at the raw nerves of the grieving process."—SCI FI Magazine

"Rife with body horror and hallucinations...the narrative sucks readers into its dark, disorienting world. It's equal parts moving and gruesome."—Publishers Weekly

"Chapman has created an experience so anxiety inducing, immersive, and intense that readers will feel like something is actually there, lurking over their shoulder as they turn the pages. A great choice for fans of A Head Full of Ghosts by Paul Tremblay, Mexican Gothic by Silvia Moreno-Garcia, and Orphans of Bliss, edited by Mark Matthews."—Booklist, starred review

"A high anxiety, utterly original, and compelling contemplation of what it means to be haunted."—Library Journal

"A compelling, relentless read..."—Rue Morgue

"The best book from Chapman yet…wicked, full of heart, and lasting, or more appropriately, haunting."—Cemetery Dance

"Fans of body horror will rejoice as Chapman leads readers through a trippy world."—Book Riot

"A nuanced, heartfelt story about addiction, grief, loss, and regret…Ghost Eaters is as humane as it is horrific—which is another way of saying it's Chapman doing what Chapman does best."—The Big Thrill

"I truly loved it and all its creepiness."—Lauren Simonis-Hunter for AARP

"While this book warns you away from mainlining Ghost, because of, you know, ghosts, what you will get hooked on here is Clay McLeod Chapman's writing."—New York Times bestselling author Stephen Graham Jones, Don't Fear the Reaper

"An addicting read that draws you into its descent from the first page."—Chuck Wendig, New York Times best-selling author of The Book of Accidents

"Clay McLeod Chapman's guided tour of a shroom-and-gloom ghost world, where everyone is addicted to death, reads like a scared straight program that horrifies you into choosing life."—Grady Hendrix, New York Times bestselling author of The Final Girl Support Group

"A terrifying meditation of the horrors of modern life and our collective fixation with death. Clay McLeod Chapman's Ghost Eaters promises to fix what ails you, existentially speaking."—Alma Katsu, author of The Fervor

"This is high-grade horror, and Clay McLeod Chapman is the real deal."—Gabino Iglesias, author of The Devil Takes You Home

"A non-stop thrill ride, all you can do is strap in and prepare to be haunted. Chapman is the 21st century's Richard Matheson. He's that good."—Richard Chizmar, New York Times best-selling author of Chasing the Boogeyman

"A quintessential ghost story with a fresh, trippy twist. Chapman weaves hair-raising, goosebump-inducing horror through a sharp exploration of loss, addiction, and grim history. Haunting guaranteed."—Rachel Harrison, author of Cackle and The Return