Tales of the Prehistoric World: Adventures from the Land of the Dinosaurs (Hardcover)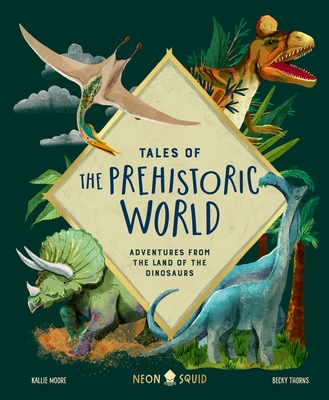 Description
---
Travel back to the land before time to discover real dinosaur stories from the world of paleontology. Featuring T. rex, Stegosaurus, and Triceratops – it's the perfect gift for young dinosaur fans!

Young children will enjoy thrilling tales of intrepid paleontologists discovering jaw-dropping fossils in the first book by Kallie Moore – fossil expert and host of PBS Eons on YouTube. Kids will come face-to-face with incredible prehistoric beasts including the dinosaurs that fossilized into gemstones, the shark with a saw in its mouth, and the pterosaur the size of an airplane!

As well as stories from the Jurassic era, beautifully brought to life by illustrator Becky Thorns, Tales of the Prehistoric World also whizzes back in time even further to meet the first walking fish, before speeding forwards to hang out with mammoths and saber-toothed cats.

Along the way young readers will discover what it takes to be a paleontologist!
About the Author
---
Kallie Moore manages the paleontology collection at the University of Montana and co-hosts the YouTube channel PBS Eons. Her love of paleontology started from a young age, and she even searched for tiny fossils in the gravel on her grade school's playground during recess. Kallie has consulted for Disney's Animal Kingdom Theme Park on renovations to the DINOSAUR ride, as well as hosted a livestream for the newly opened Deep Time Hall at the Smithsonian National Museum of Natural History in Washington, D.C.

Becky Thorns is an illustrator and lettering artist based in Cornwall, UK. Her book The World of Whales was shortlisted in the World Illustration Awards 2021.

Neon Squid creates beautiful nonfiction books for inquisitive kids (and kids at heart). We believe the most amazing stories are real ones, so our books are for children who want to decipher ancient scrolls, orbit distant stars, and dive into the deepest oceans. Our books are a labor of love—written by experts, illustrated by the best artists around, and produced using the finest materials, including sustainably sourced paper. We hope that by reading them kids are encouraged to further explore the world around them.
Praise For…
---
"Will please both fledgling and confirmed dinophiles... An insider's view of exciting sites and finds, with prehistoric portraits aplenty to match." --Kirkus