Tales of the Prehistoric World: Adventures from the Land of the Dinosaurs (Hardcover)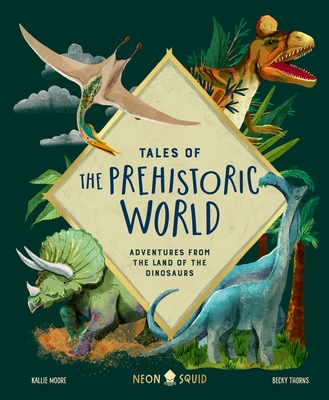 $21.99

Usually Ships in 1-5 Days
Description
---
Travel back in time this holiday season in this collection of exhilarating dinosaur adventures for kids and grandchildren aged 7-10 from palaeontologist and YouTuber Kallie Moore.

Who needs Jurassic World when the truth is this exciting? Prepare yourself for jaw-dropping discoveries, scandalous stories, and dinosaurs so weird you won't believe they're real! The tales in this dinosaur book are all completely true and many are included in a kids' book for the first time. Readers will come face-to-face with incredible prehistoric beasts including the Australian dinosaurs that fossilized into gemstones, the prehistoric shark with a circular saw in its mouth, and the relative of T. rex that was found frozen at the top of a mountain in Antarctica…

The book is broken down into chapters covering the whole of Earth's history:

Chapter 1 - The Beginning - featuring prehistoric goo and the first squishy animals

Chapter 2 - An Explosion of Life - featuring king-sized trilobites, armored fish, and giant bugs!

Chapter 3 - The Age of Reptiles - featuring spiny sauropods, pterosaurs the size of airplanes, and musical dinosaurs.

Chapter 4 - The Recent Past - featuring gigantic snakes, Ice Age mammoths and sabre-toothed cats, and the hairy primates that would one day evolve into humans!

Every thrilling story has been meticulously researched by author Kallie Moore, a fossil expert who also hosts the hit YouTube show PBS Eons. Beautiful illustrations by critically-acclaimed illustrator Becky Thorns bring incredible prehistoric beasts like Stegosaurus and Triceratops to life for younger readers.

Unlike most kids' dinosaur books on the market, Tales of the Prehistoric World shines a light on the work of palaeontologists – from Susan Hendrickson, who discovered the most complete T. rex ever found, to Nizar Ibrahim, whose discoveries in the Sahara desert changed everything we thought we knew about Spinosaurus (SPOILER: it could swim!)

"Will please both fledgling and confirmed dinophiles. . .An insider's view of exciting sites and finds, with prehistoric portraits aplenty to match." –Kirkus

A gift to stand the test of time

This beautiful hardback book makes the perfect gift for dino-mad kids. The cloth-textured cover is gilded with gold foil, and everything is printed using sustainable FSC® certified paper.

Collect the series

Part of Neon Squid's acclaimed series of educational bedtime stories that also includes Tales of Ancient Worlds and Tales of World War II.
About the Author
---
Kallie Moore manages the paleontology collection at the University of Montana and co-hosts the YouTube channel PBS Eons. Her love of paleontology started from a young age, and she even searched for tiny fossils in the gravel on her grade school's playground during recess. Kallie has consulted for Disney's Animal Kingdom Theme Park on renovations to the DINOSAUR ride, as well as hosted a livestream for the newly opened Deep Time Hall at the Smithsonian National Museum of Natural History in Washington, D.C.

Becky Thorns is an illustrator and lettering artist based in Cornwall, UK. Her book The World of Whales was shortlisted in the World Illustration Awards 2021.

Neon Squid creates beautiful nonfiction books for inquisitive kids (and kids at heart). We believe the most amazing stories are real ones, so our books are for children who want to decipher ancient scrolls, orbit distant stars, and dive into the deepest oceans. Our books are a labor of love—written by experts, illustrated by the best artists around, and produced using the finest materials, including sustainably sourced paper. We hope that by reading them kids are encouraged to further explore the world around them.
Praise For…
---
"Will please both fledgling and confirmed dinophiles... An insider's view of exciting sites and finds, with prehistoric portraits aplenty to match." --Kirkus