Neon Gods (Dark Olympus) (Paperback)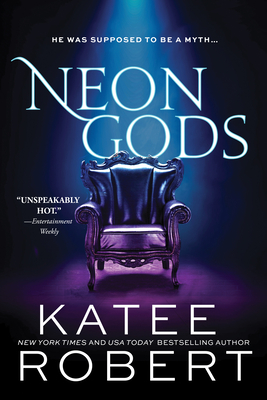 Other Books in Series
This is book number 1 in the Dark Olympus series.
Staff Reviews
---
Elisabeth's July 2021 pick
Modern Olympus Persephone/Hades, but make it an emotionally healthy Fifty Shades.
You know those gratuitous explicit fanfiction sagas we read (or wrote!) during our formative years? Neon Gods is what we all imagined we were producing, except even better.
I give Neon Gods a SIX out of Five on the Steam Scale; this is Vesuvius levels of heat. Could you find something dirtier or smuttier? Yes. But the sex and relationship are handled WELL here, and doesn't get toxic in the way that teenage writers imagine domination should play out (to elaborate: healthy consent and checking in with your partner and hoping for their growth and happiness is good and sexy. Being a jealous controlling asshole is not sexy and is bad.).
Oh, also, there's a plot. In modern Olympus (run by a human council of Thirteen with roles related to the original Olympian gods), Persephone, daughter of the recently elected "Demeter" city official, runs in a cocktail gown and heels from the skyscraper venue of her surprise engagement party (a surprise in that she did not expect Zeus to propose to her, seeing as she's one third his age and they weren't dating) rather than be maneuvered into becoming his fourth Hera and eventually his fourth tragically dead wife. She runs and runs and runs from Zeus's enforcers, she runs her feet bloody, and runs right over the River Styx and into the lower city, out of Zeus's territory and into the arms of the tall, dark, and handsome new Hades, whose family line was supposed to be dead. She offers Broody McBrooderston the chance to stick it to Zeus by having sex on every available surface and "ruining" her, in exchange for protection through the end of winter, when she ages into her trust fund and can flee to safety. He'd protect her anyway, but she is extremely tired of the sunshiney virginal facade her politicking mother insists she wear.
Anyway.
Actual plot.
Hephaestus could use the heat level in his forge.
I want Hermes to be my new bff, she's so cool.
— From
Elisabeth
Description
---
He was supposed to be a myth. But from the moment I crossed the River Styx and fell under his dark spell…he was, quite simply, mine.
*A scorchingly hot modern retelling of Hades and Persephone that's as sinful as it is sweet.*
Society darling Persephone Dimitriou plans to flee the ultra-modern city of Olympus and start over far from the backstabbing politics of the Thirteen Houses. But all that's ripped away when her mother ambushes her with an engagement to Zeus, the dangerous power behind their glittering city's dark facade.
With no options left, Persephone flees to the forbidden undercity and makes a devil's bargain with a man she once believed a myth...a man who awakens her to a world she never knew existed.
Hades has spent his life in the shadows, and he has no intention of stepping into the light. But when he finds that Persephone can offer a little slice of the revenge he's spent years craving, it's all the excuse he needs to help her—for a price. Yet every breathless night spent tangled together has given Hades a taste for Persephone, and he'll go to war with Olympus itself to keep her close…
"Deliciously inventive…Red-hot."—Publishers Weekly STARRED
"I get shivers just thinking of their interactions. SHIVERS."—Mimi Koehler for The Nerd Daily
The World of Dark Olympus:
Neon Gods (Hades & Persephone)
Electric Idol (Eros & Psyche)
Wicked Beauty (Achilles & Patroclus & Helen)
Radiant Sin (Apollo & Cassandra)
About the Author
---
Katee Robert is a New York Times and USA Today bestselling author of contemporary romance and romantic suspense. Entertainment Weekly calls her writing "unspeakably hot." Her books have sold over a million copies. She lives in the Pacific Northwest with her husband, children, a cat who thinks he's a dog, and two Great Danes who think they're lap dogs.
Praise For…
---
"Deliciously inventive…This red-hot romance is a winner." — Publishers Weekly STARRED Review
"This smart re-imagining of the Persephone and Hades myth is an intriguing love story and amust-buy." — Booklist
"This modern-day retelling of the story of Hades and Persephone has lots to offer for romance fans looking for a slightly darker romance." — Library Journal