Setting the Wire: A Memoir of Postpartum Psychosis (Paperback)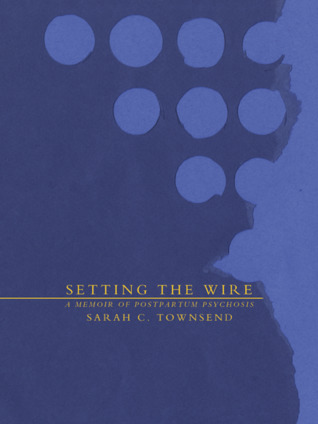 $14.95
This book is not in our store, but most are available for us to get in short order! Send us a message.
Description
---
Literary Nonfiction. Poetry. Women's Studies. SETTING THE WIRE is a memoir of postpartum psychosis and a meditation on containment: what we hold and what holds us together. A lyric exploration of motherhood, mental illness, and familial ties, Sarah C. Townsend's debut work weaves together personal anecdote, film, music, visual art, and psychology. SETTING THE WIRE is a visceral reflection on the experience of fragmentation as a young psychotherapist and new mother. Sarah Townsend's SETTING THE WIRE is a tightly coiled and disturbingly gorgeous exploration of her postpartum mental breakdown. I devoured these pages--while willing myself to slow down so I could catch every nuance of Townsend's taut, lyrical, wise writing.--Claire Dederer SETTING THE WIRE is a book one doesn't so much read as fall into. Townsend drops us masterfully into a state of mind almost over the edge but never completely. Evocative and mesmerizing, this book should be kept near Charlotte Perkins Gilman's The Yellow Wallpaper, Doris Lessing's To Room Nineteen, and Jean Rhys's Wide Sargasso Sea.--Theo Pauline Nestor Sarah Townsend has written a memoir of maternal loss, a state that brings relief only when it is inverted. The mother of this book has a nervous system like wet fire, like creativity before it has been experienced as creativity: thus, 'nascent.' This memoir has Ohio in it and also the Puget Sound. Water and earth. Body and mind. Something like 'a shard' between. Dip that pointed glass in red ink. Boil that ink over the paper. This book is written like that. When it is too late. When all that remains is the formidably public and emotionally intimate attempt to live at all. And then to make the shift. To trust. To thrive.--Bhanu Kapil.
About the Author
---
Sarah C. Townsend is the author of Setting the Wire: A Memoir of Postpartum Psychosis, forthcoming from The Lettered Streets Press in 2019. Her essays have appeared in The Writer in the World and Pitkin Review, and a coauthored paper with Elisabeth Young-Bruehl serves as a chapter in Subject to Biography: Psychoanalysis, Feminism, and Writing Women's Lives. Sarah received her MFA in creative writing from Goddard College, her Master's in counseling psychology from Northwestern University, and is a graduate of the College of Letters at Wesleyan University. She writes, teaches, and practices psychotherapy in and around Seattle, WA. You can learn more about her at SarahTownsendWriter.com.
Praise For…
---
"Taut, lyrical, wise writing." – Claire Dederer, author of Love and Trouble

"Townsend drops us masterfully into a state of mind almost over the edge but never completely." – Theo Pauline Nestor, author of Writing Is My Drink

"This memoir has . . . water and earth. Body and mind. Something like 'a shard' between." – Bhanu Kapil