Oslo, Maine: A Novel (Paperback)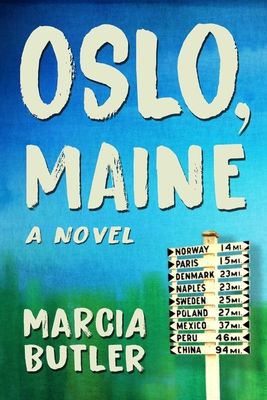 $16.99

Usually Ships in 1-5 Days
Description
---
"This book will break your heart and heal it." - E.J. Levy, author of The Cape Doctor

"If you're lucky enough to see a moose, chances are, it'll change your life." - Marcia Butler, KenyonReview.org

A pregnant moose walks into a rural Maine town called Oslo, looking for food and a place to deliver her calf. Just as when strangers run into each other on the street, the movement of the moose determines the fate of three families in the town as they grapple with trauma, marriage, ambition, and their fraught relationship with the natural world.

Meet Pierre Roy, a brilliant twelve-year-old, who loses his memory in an accident. Then Claude Roy, Pierre's blustery and proud fourth-generation Maine father who cannot, or will not, acknowledge the too-real and frightening fact of his son's injury. And his wife, Celine, a once-upon-a-time traditional housewife and mother who descends into pills as a way of coping. 

Enter Sandra and Jim Kimbrough, musicians and recent Maine transplants who scrape together a meager living as performers while shoring up the loose ends by attempting to live off the grid. 

Finally, the wealthy widow "from away," Edna Sibley, whose dependent adult grandson is addicted to 1980's Family Feud episodes. 

Their disparate backgrounds and views on life make for, at times, uneasy neighbors. But when Sandra begins to teach Pierre the violin, forces beyond their control converge. The boy discovers that through sound he can enter a world without pain from the past nor worry for the future. He becomes a preadolescent existentialist and invents an unconventional method to come to terms with his memory loss, all the while attempting to protect, and then forgive, those who've failed him.

Oslo, Maine is a character-driven novel exploring class and economic disparity. It inspects the strengths and limitations of seven average yet extraordinary people as they reckon with their considerable collective failure around Pierre's accident. 

Alliances unravel. Long held secrets are exposed. And throughout, the ever-present moose is the linchpin that drives this richly drawn story, filled with heartbreak and hope, to its unexpected conclusion.
  "(T)he flawed but deeply relatable characters in Butler's second novel ... exude an authentic sense of humanity, making this a sure-fire recommendation for Fredrik Backman fans." —Carol Haggas, Booklist

A seductive, imaginative, and utterly unique story; an astute and compassionate foray into the intersecting lives of characters who are both ordinary and exceptional, saintly and deeply flawed." —Karen Dionne, #1 internationally bestselling author of The Wicked Sister
About the Author
---
Marcia Butler, a former professional oboist and interior designer, is the author of the memoir, The Skin Above My Knee, and debut novel, Pickle's Progress. With her second novel, Oslo, Maine, Marcia draws on indelible memories of performing for fifteen years at a chamber music festival in central Maine. While there, she came to love the diverse topography, the earnest and quirky people, and especially the majestic and endlessly fascinating moose who roam, at their perpetual peril, among the humans. After many decades in New York City, Marcia now makes her home in Santa Fe, New Mexico.
Praise For…
---
"How do we cope with the unimaginable? Maybe, says Marcia Butler, in her brilliant new novel, we do it with the unimaginable. When 12-year-old Pierre Roy loses his memory in an accident, three Maine families, a crosscut of cultures and classes, are at loose ends as to what to do. Instead, it's up to one boy and the incredible sound from one violin, to change and challenge everything everyone thought they knew. Gorgeously written and hauntingly told, Butler's novel, about love, forgiveness, and yes, coming to terms with our failures, is as breathtaking as Maine itself." —Caroline Leavitt, NYT Bestselling author of
Pictures of You and Cruel Beautiful World
"
Oslo, Maine 
is an enchantment; I read it in two sittings, utterly absorbed, spellbound by this world where everyone--even a mother moose--has secrets and hidden yearnings (and unexpected capacities), and where even damage can prove to be a redemptive gift. Marcia Butler is a master dramatist, a sorceress, and extraordinary novelist; this book will break your heart and heal it." —E.J. Levy, Author of
Love, In Theory
and forthcoming,
The Cape Doctor
"Wildly plotted, astutely observed, and brimming with wit,
Oslo, Maine
briskly unfurls it's central mystery, portraying a motley brand of Mainers with precision, and causing unsuspecting readers to become deeply invested in the plight of a moose and her calf. Marcia Butler explores the blunt, hard follies of human nature with verve and humor in this innovative and charming novel." —Adrienne Brodeur, Author of the best-selling memoir
Wild Game
"A seductive, imaginative, and utterly unique story; an astute and compassionate foray into the intersecting lives of characters who are both ordinary and exceptional, saintly and deeply flawed." —Karen Dionne, #1 internationally bestselling author of
The Wicked Sister
"
Oslo, Maine
is richly satisfying, a book for a quiet afternoon, a cup of tea, music in the background. Don't mind that big soft nose at the window: the moose has come for you." —Bill Roorbach, Author of
The Girl of the Lake
,
The Remedy for Love
, and
Life Among Giants
"For all their furtiveness, the flawed but deeply relatable characters in Butler's second novel ... exude an authentic sense of humanity, making this a sure-fire recommendation for Fredrik Backman fans." —Carol Haggas, 
Booklist
"Butler's characters are such complex, authentically flawed humans, you can't help but root for them. But then there's the moose…Butler's moose is a moose, and we never lose that essential fact…
Oslo, Maine
is an engaging, wonderfully nuanced novel." —Jaimee Wriston Colbert, 
New York Journal of Books
"For all their furtiveness, the flawed but deeply relatable characters in Butler's second novel exude an authentic sense of humanity, making this a sure-fire recommendation for Fredrik Backman fans." —Carol Haggas, Booklist
"The fictional, titular town hosts a complicated page-turner of a story spurred by the fallout from a young boy's violent run-in with a moose, and though the pacing is breezy, the grappling with interpersonal and interspecies relationships is not." —Will Grunewald, 
DownEast Magazine
"Butler pulls it off beautifully with a heart-rending story of small steps and big hopes." —Bill Bushnell,
reviewer for
Central Maine Morning Sentinel