Ducks, Newburyport (Paperback)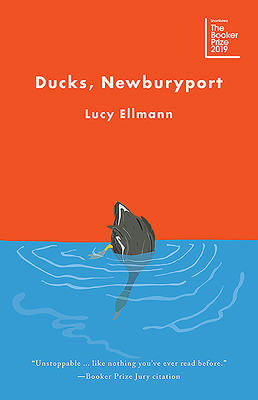 Staff Reviews
---
Ben's February 2023 pick
Okay, let's get this out of the way. Physically pick up Ducks, Newburyport. Dense, right? And even thicker than it looked on the shelf. Crack it open and you'll find that this book is a thousand pages long and contains a single sentence.
Upon learning this, most people will (rightfully) think "ABSOLUTELY NOT," shelve it and never think of it again. That is perfectly acceptable! No book is the right book for every reader and this one is decidedly not for everyone.
However!! If you, dear Gibson's customer, hear the phrase "a thousand-page single sentence" and your ears perk up, then I have good news for you. You're holding a work of genius.
Ducks consists solely of the uncurated thoughts of a pie-making housewife and mother of four in suburban Ohio. It is a ceaseless, discursive, jet-stream-of-consciousness with almost no discernable plot for the first 400 pages. However, as the book progresses, the themes and anxieties that Ellmann weaves into her protagonist's mind begin to find each others' resonant notes. Buried within the cacophony of brand names, maternal concerns, and daily distractions, you will find poignant reflections on our particular American strain of misogyny, violence, and parenthood. At first, it feels like our protagonist is frustratingly incapable of serious thought, yet the deeper you read, the more profound of a philosophical text the book becomes. Who exactly gets deemed a "serious thinker," who has a chance at happiness, who gets to live freely in this country?
You're holding a strange and brilliant left-handed masterpiece; you just have to read a marathon to get at it. Game to try?
— From
Ben
Description
---
WINNER OF THE 2019 GOLDSMITHS PRIZE - SHORTLISTED FOR THE 2019 BOOKER PRIZE - A NEW YORKER BEST BOOK OF 2019 - A NEW YORK TIMES NOTABLE BOOK OF 2019 - A TIME MUST-READ BOOK OF 2019
This book has its face pressed up against the pane of the present; its form mimics the way our minds move now toggling between tabs, between the needs of small children and aging parents, between news of ecological collapse and school shootings while somehow remembering to pay taxes and fold the laundry.--Parul Sehgal, New York Times
Baking a multitude of tartes tatins for local restaurants, an Ohio housewife contemplates her four kids, husband, cats and chickens. Also, America's ignoble past, and her own regrets. She is surrounded by dead lakes, fake facts, Open Carry maniacs, and oodles of online advice about survivalism, veil toss duties, and how to be more like Jane Fonda. But what do you do when you keep stepping on your son's toy tractors, your life depends on stolen land and broken treaties, and nobody helps you when you get a flat tire on the interstate, not even the Abominable Snowman? When are you allowed to start swearing?
With a torrent of consciousness and an intoxicating coziness, Ducks, Newburyport lays out a whole world for you to tramp around in, by turns frightening and funny. A heart-rending indictment of America's barbarity, and a lament for the way we are blundering into environmental disaster, this book is both heresy―and a revolution in the novel.
About the Author
---
Lucy Ellmann's first novel, Sweet Desserts, won the Guardian Fiction Prize. It was followed by Varying Degrees of Hopelessness, Man or Mango? A Lament, Dot in the Universe, Doctors & Nurses, Mimi. Her short stories have appeared in magazines, newspapers and anthologies, and she has written for the New York Times, Washington Post, Guardian, Independent, Independent on Sunday, Times Literary Supplement, Telegraph, New Statesman and Society, Spectator, Herald, Scottish Review of Books, Time Out (London), Art Monthly, Thirsty Books, Bookforum, Aeon, The Evergreen, and The Baffler. A screenplay, The Spy Who Caught a Cold, was filmed and broadcast on Channel 4 in the UK. She edits fiction for the Fiction Atelier (fictionatelier.wordpress.com), and abhors standard ways of teaching Creative Writing, which she considers mostly criminal. Though American by birth, she lives in Scotland.