The Cold Millions (MP3 CD)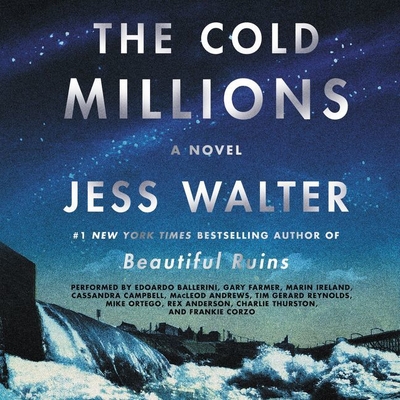 $39.99
This book is not in our store, but most are available for us to get in short order! Send us a message.
November 2020 Indie Next List
---
"The gorgeous writing, vivid setting, compelling characters, and engrossing story aren't even the best parts of this novel. Instead, I just keep marveling at how Jess Walter takes events from history to illuminate our present while keeping them rooted in their own time, from the labor movement to class, race, and gender equality and civil rights issues, to protests and freedom of speech. The northwest in 1909 has never been so relevant. Beautiful Ruins was a hard act to follow but, amazingly, Walter manages it with aplomb."
— Ariana Paliobagis, The Country Bookshop, Southern Pines, NC
Description
---
A Most Anticipated Book by: The New York Times Book Review * Wall Street Journal * Time * Esquire * The Millions * Vogue * People * New York Post * USA Today * Medium * The Philadelphia Inquirer * Newsday
From the #1 New York Times bestselling author of Beautiful Ruins comes another "literary miracle" (NPR)--a propulsive, richly entertaining novel about two brothers swept up in the turbulent class warfare of the early twentieth century.
An intimate story of brotherhood, love, sacrifice, and betrayal set against the panoramic backdrop of an early twentieth-century America that eerily echoes our own time, The Cold Millions offers a kaleidoscopic portrait of a nation grappling with the chasm between rich and poor, between harsh realities and simple dreams.
The Dolans live by their wits, jumping freight trains and lining up for day work at crooked job agencies. While sixteen-year-old Rye yearns for a steady job and a home, his older brother, Gig, dreams of a better world, fighting alongside other union men for fair pay and decent treatment. Enter Ursula the Great, a vaudeville singer who performs with a live cougar and introduces the brothers to a far more dangerous creature: a mining magnate determined to keep his wealth and his hold on Ursula.
Dubious of Gig's idealism, Rye finds himself drawn to a fearless nineteen-year-old activist and feminist named Elizabeth Gurley Flynn. But a storm is coming, threatening to overwhelm them all, and Rye will be forced to decide where he stands. Is it enough to win the occasional battle, even if you cannot win the war?
Featuring an unforgettable cast of cops and tramps, suffragists and socialists, madams and murderers, The Cold Millions is a tour de force from a "writer who has planted himself firmly in the first rank of American authors" (Boston Globe).