T-54 and T-55 Main Battle Tanks 1944–2004 (New Vanguard) (Paperback)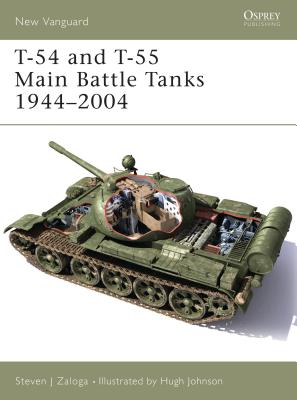 $19.00
It's Complicated - Contact Us for More Information About Availability
Other Books in Series
This is book number 102 in the New Vanguard series.
Description
---
The T-54 and T-55 tanks are the most widely manufactured tanks of all time. They have become ubiquitous to wars around the globe since the 1950s, starting with Hungary in 1956, and including the the Arab-Israeli wars of 1967, 1973 and 1982, the Vietnam war of 1967-75, the Iran-Iraq War of 1980-88, the Afghanistan conflict, Operation Desert Storm, the Yugoslav Civil Wars, and the recent conflict in Iraq. This book will examine the roots of this prolific tank family, starting with the Soviet Army's first attempts to replace the legendary T-34 during World War II, and covering the T-43 and the T-44, the more successful T-54, and its ultimate evolution into the T-55.
About the Author
---
Steven J. Zaloga received his BA in History from Union College and his MA from Columbia University. He has worked as an analyst in the aerospace industry for four decades, covering missile systems and the international arms trade, and has served with the Institute for Defense Analyses, a federal think tank. He is the author of numerous books on military technology and history, including NVG 294 Allied Tanks in Normandy 1944 and NVG 283 American Guided Missiles of World War II. He currently lives in Maryland, USA.