All The Names Given: Poems (Paperback)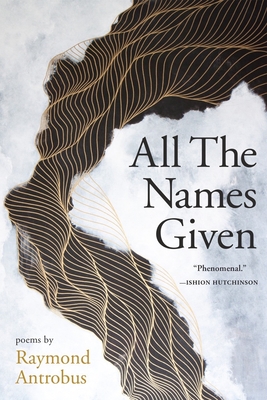 Description
---
A Guardian Best Book of the Year
Finalist for the T. S. Eliot Prize and The Costa Poetry Award
"Exquisite." —The New York Times Book Review

"Brave, tender and generous. . . . A haunting study of what we can find in the silences of history when history is recognized as more than a noun, when recognized as something alive and kinetic." —Camonghne Felix, author of Build Yourself a Boat
On the heels of his much-lauded debut collection, Raymond Antrobus continues his essential investigation into language, miscommunication, place, and memory in All The Names Given, while simultaneously breaking new ground in both form and content. 
The collection opens with poems about the author's surname—one that shouldn't have survived into modernity—and examines the rich and fraught history carried within it. As Antrobus outlines a childhood caught between intimacy and brutality, sound and silence, and conflicting racial and cultural identities, the poem becomes a space in which the poet reckons with his own ancestry, and bears witness to the indelible violence of the legacy wrought by colonialism. The poems travel through space—shifting fluidly between England, South Africa, Jamaica, and the American South—and brilliantly move from an examination of family history into the wandering lust of adolescence and finally, vividly, into a complex array of marriage poems—matured, wiser, and more accepting of love's fragility. Throughout, All The Names Given is punctuated with [Caption Poems] partially inspired by Deaf sound artist Christine Sun Kim, in which the art of writing captions attempts to fill in the silences and transitions between the poems as well as moments inside and outside of them. 
Formally sophisticated, with a weighty perception and startling directness, All The Names Given is a timely, tender book full of humanity and remembrance from one of the most important young poets of our generation.
About the Author
---
Raymond Antrobus was born in London to an English mother and Jamaican father. He was awarded the 2017 Geoffrey Dearmer Prize, judged by Ocean Vuong, as well as the 2019 Sunday Times/University of Warwick Young Writer of the Year Award. His second full-length collection of poems, All The Names Given, is forthcoming from Tin House and Picador in 2021. Raymond is currently based between London and Oklahoma City.
Praise For…
---
Exquisite. 
— The New York Times Book Review

Deeply personal, emotionally striking, with memorable turns of phrase.
— Chicago Review of Books

Bold and tender. . . . These voice and narrative-driven poems bear
witness to the gaps in language, speaking, and understanding—moving
seamlessly through new poetic and visual forms in the pursuit of
bridging and speaking to these gaps.
— The Arkansas International

Antrobus never sits inside darkness. It's not so much that he is overly sentimental or naively optimistic. Rather, Antrobus is able to juxtapose the most troubling moments with vignettes of wonder and wisdom. . . . Antrobus burst onto the scene with two incredible collections this year. Do yourself a favor and get a copy of both The Perseverance and All The Names Given. This is a poet you're going to want to follow.

— The Poetry Question

Intriguing and moving.
— The Times Literary Supplement (UK)

In All The Names Given, the essential tension is knowledge. Knowledge of self, knowledge of others. These poems make the sublime leap or union of witness to 'with-ness,' so their knowledge is not speculative but holds together, beautiful and fraught, the broken burden of honesty: love. Antrobus is a phenomenal poet.

— Ishion Hutchinson, author of House of Lords and Commons

[Antrobus] reckons with his own ancestry, conflicting racial and cultural identities, and chronicles the damages of colonialism.
— CITY Magazine

This collection is a brave, tender and generous piece of music, where family is a cord forever troubled by the process of being named. With a knife-like precision, All the Names Given manages to caption the speaker's dance with the ghosts of his bloodline, offering us a haunting study on what we can find in the silences of history when history is recognized as more than a noun, when recognized as something alive and kinetic, something constantly in conversation with the present. I can't wait to see how this timely book ripples through our world.

— Camoghne Felix, author of Build Yourself a Boat

What a beautiful book Raymond Antrobus has written! I love it. So much pain, so much tenderness, so much music and invention and passion in All The Names Given. Truly, it is terrific. Antrobus has a special gift of making music from stories and giving his lyrics gravity and urgency that's inimitable.

— Ilya Kaminsky, author of Deaf Republic

These poems are revelations. This collection is so obviously
at the forefront of a new canon whose singular and evocative
approach to lyricism and imagistic play demonstrates not only
the necessity of our multilingual and multimodal realities,
but 'the volume of their power,' too.
— Meg Day, author of Last Psalm at Sea Level

A fluidly written understanding of self, history, and oppression from a fast-rising poet.
— Library Journal, Starred Review

Deaf poet Raymond Antrobus's powerful collection winds readers between text and image, sound and silence, while tackling questions about identity, family and trauma. . . . bold and direct, these poems are stunning in their generosity: two hands open, offering abundance.
— Shelf Awareness, Starred Review

Powerful. . . . Antrobus beautifully pays witness to the legacy of colonialism while providing another gripping meditation on language and communication.
— Publishers Weekly

Raymond Antrobus [has a] depth of awareness, originality, and empathy—all turned inside out and refracted into prism-like hues of insight.
— Foreword Reviews