Turning on the Wasp (Paperback)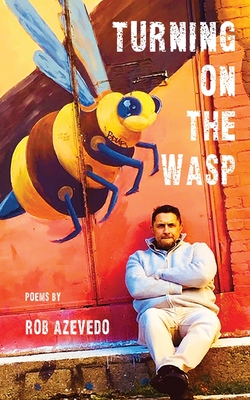 Description
---
"Rob Azevedo, the gregarious radio host and Manchester's resident raconteur, now throws another one of his many hats into the poetry arena, and he does not disappoint in his debut collection, Turning on the Wasp. Azevedo's verse combines Bukowski's rawness with Kerouac's cosmic musings-maybe a dash of Rimbaud-thrown in a Petri dish with his own distinct poetic vision. So welcome to world of poetry, Mr. Azevedo. We've been waiting for you."
-Nathan Graziano, author of Fly Like The Seagull
"If your musical knowledge is in the Dark Ages, Azevedo will bring it new light. He is also an excellent writer. His words add dimension to flatness, and freshness to anything gone stale. Some poets are diamonds, some are stones: Rob's many facets reveal he is in the first group, not the second...."
-Steve Shaw, poet, writer, musician.
"With a fine tuned musical ear for rhythm and syntax, a razor sharp keenly honest poetic voice, in Turning on the Wasp, his virgin voyage into the holy unholy realms
of poetry, from the first poem to the last, Rob Azevedo kept me on the edge of my seat wanting more."
-Ron Whitehead, poet, writer, editor, scholar and activist.