Hers (Paperback)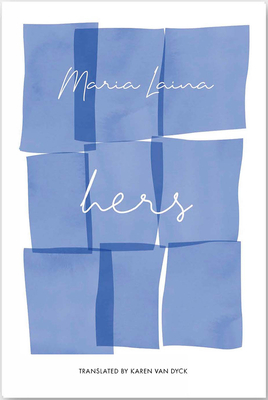 $16.00

Usually Ships in 1-5 Days
Description
---
In HERS, Maria Laina, one of Greece's most important living poets, taking inspiration from Sappho's women-centered past and Cavafy's homoerotic future, presents an ascetic yet autoerotic treatise on of love at odds with societal norms.
In these still lifes of the interior, Maria is between worlds. Somewhere between the self and the mirror, the real and the invented, the dead and the living, etched in the color of charcoal. Who is sketching this life and who is watching it being sketched, and who is watching it being lived? These poems report back on what goes on in the spaces between. Sometimes the drawing goes outside the lines. Sometimes the beauty and simplicity of the movements is overwhelming in the most voluptuous way. A swarm of voices passes over you. You know everything and nothing. You 'gently chase the memory from your] mouth.' Read these poems.--Eleni Sikelianos
One of the important voices of the 'Generation of the 70s, ' a generation of Greek poets born into a war-ravaged Greece, and who came of literary age under the Junta (and a generation remarkable for prominent women poets) Maria Laina and her poetry remain under-appreciated and underrepresented in English. HERS is a book at once abstract and grounded, elusively cerebral and erotically charged, like flashes of images in splinters of a broken mirror, a minimalism that reflects and refracts. The surface simplicity of these poems arguably make them all the more difficult to render into English, but Karen Van Dyck has deftly brought them into a transparent idiom that lets their mystery shine through.--A. E. Stallings
Poetry. Translation. Women's Studies.