Farewells and Forever (Untouchable #12) (Hardcover)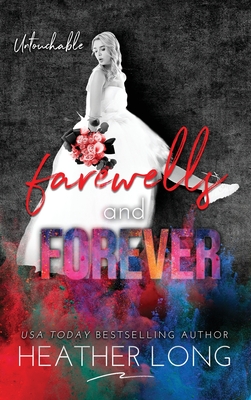 $24.99

Usually Ships in 1-5 Days
Other Books in Series
This is book number 12 in the Untouchable series.
Description
---
Beautiful, I love you. No ands, ifs, or buts. No beating around the bush. Will you marry me?
From the first proposal on the playground when we were five to the one two weeks ago, Coop has always been there for me.
Baby Girl, the only thing I've ever wanted is you. Forever.
Protector. Best friend. Lover. Jake's a part of me in a way I can't define. Even when we were apart, I knew we would find each other.
This is my love song for you, Angel.
Music is Ian's love language. He doesn't just wrap me up to keep me safe from the world, he pulled me into his. He shared his love and the knots that bind our hearts are beyond anything I could have imagined.
From the day I met you-you were the one, Babe. The only one.
Archie's my hero in some ways, he pushes and he demands. At the same time, he savors and teases. He's a builder and a fixer. I had no idea that the day he arrived was the day the last piece missing in my world would lock into place.
Marry us.
My name is Frankie Curtis, the four men I love more than anything else in this world want me to marry them. They want forever.
They want me.
*Please note this is a reverse harem and the author suggests you always read the forward in her books. Contains some bullying elements, mature situations, violence, and is recommended for 17+. This is the twelfth and final book in the Untouchable series.