Class: A Memoir of Motherhood, Hunger, and Higher Education (Hardcover)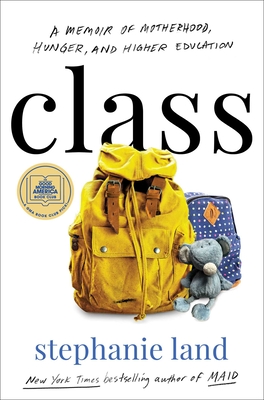 Staff Reviews
---
Jim's November 2023 pick (2 of 3)
"If man you be in heart, not adamant, forbear that wicked cant until you have discovered What the surplus is, and Where it is. Will you decide what men shall live, what men shall die? "
Ghost of Christmas Present, A Christmas Carol
If you had read Land's Maid, you know what you are in for here; however, if you have not, be prepared to be angry, sad, happy, and grateful.
The author demonstrates in this memoir the irony of people like herself who are citizens of the wealthiest country on Earth yet survive below the poverty line all while raising a child and pursuing the "American dream" of getting a college education. Frequently, as I read, I wondered about the phrase "pro-life" and those who espouse to be such yet clearly care only about the birth aspect of life. I also thought about why people who look down upon those on welfare without every considering why someone must rely on that program. Which is the reason I chose the quote above to accompany this review. Like Scrooge, at least initially, we are so quick to judge, yet once we have met the "surplus," we are more kind-hearted.
Read Class and get to know about a portion of society that is often "underlooked."

— From
Jim
November 2023 Indie Next List
---
"A memoir I couldn't put down! The author's struggle to rise out of poverty while raising a child and trying to earn a college degree is so admirable and inspiring. I would love another follow-up book to find out where her journey takes her!"
— Lorilee Sugden, Linden Tree Children's Books, Los Altos, CA
Description
---
A Good Morning America Book Club Pick • New York Times Most Anticipated Books of Fall

"Raw and inspiring." —People

"Land is not just exploring her own story, but also the larger implications of what it means to fall between the cracks of American capitalism." —The New York Times

From the New York Times bestselling author who inspired the hit Netflix series about a struggling mother barely making ends meet as a housecleaner—a gripping memoir about college, motherhood, poverty, and life after Maid.

When Stephanie Land set out to write her memoir Maid, she never could have imagined what was to come. Handpicked by President Barack Obama as one of the best books of 2019, it was called "an eye-opening journey into the lives of the working poor" (People). Later it was adapted into the hit Netflix series Maid, which was viewed by 67 million households and was Netflix's fourth most-watched show in 2021, garnering three Primetime Emmy Award nominations. Stephanie's escape out of poverty and abuse in search of a better life inspired millions.

Maid was a story about a housecleaner, but it was also a story about a woman with a dream. In Class, Land takes us with her as she finishes college and pursues her writing career. Facing barriers at every turn including a byzantine loan system, not having enough money for food, navigating the judgments of professors and fellow students who didn't understand the demands of attending college while under the poverty line—Land finds a way to survive once again, finally graduating in her mid-thirties.

Class paints an intimate and heartbreaking portrait of motherhood as it converges and often conflicts with personal desire and professional ambition. Who has the right to create art? Who has the right to go to college? And what kind of work is valued in our culture? In clear, candid, and moving prose, Class grapples with these questions, offering a searing indictment of America's educational system and an inspiring testimony of a mother's triumph against all odds.
About the Author
---
Stephanie Land is the author of the New York Times bestseller Maid: Hard Work, Low Pay, and a Mother's Will to Survive, called "a testimony…worth listening to," by The New York Times and inspiration for the Netflix series Maid. Her work has been featured in The New York Times, The Guardian, The Atlantic, and many other outlets. Her writing focuses on social and economic justice and parenting under the poverty line. She is a frequent speaker at colleges and national advocacy organizations. Find out more at @Stepville or Stepville.com.
Praise For…
---
"A universal story."
—Good Morning America (November Book Club Pick)

"Intimate, utterly revealing ….Land bares her soul and psyche, offering readers a look at her inner life with excruciating honesty."
—New York Times

"Raw and inspiring."
—People

"Maid set the bar incredibly high for Stephanie Land, opening up a whole discourse on working conditions and the lives of those with the chips stacked against them. Class sees that bar, and raises it. Weaving together themes of motherhood and ambition, it is deeply personal, universally felt and profoundly moving."
—B&N Reads

"In her trademark raw, vulnerable writing style, she interrogates the idea of money and privilege, parenthood and poverty: should entry to the college classroom only be for those of a certain socioeconomic class? This book will open your eyes, challenge your preconceived notions, and ultimately leave you rooting for Land, and for every person who dares to dream when the odds are stacked against them."
—Amazon, Best Books of November 2023

"Land is a great writer, particularly when conveying the relentless nature of poverty and the systems that work against women, especially….this book will serve as quite the mirror for the inherent biases many people hold about who can do what and why."
—Roxane Gay, New York Times bestselling author of Bad Feminist

"Land's English degree didn't provide a golden ticket out of poverty....but it gave her pride and dignity."
—New York Post

"Captivating….Eye-opening and heartrending, [CLASS] will provide succor for readers who've faced similar hardships and essential education for anyone who hasn't. It's another stirring personal history from one of the foremost chroniclers of 21st-century economic anxiety."
—Publishers Weekly (starred review)

"A beautiful memoir that's an honest portrayal [of] persistence and life and writing and children. Stephanie Land did the work, and it shows."
—Neil Gaiman

"An illuminating portrait of a part of the higher education experience that is often ignored…a powerful read."
—Kirkus

"An incredible and heart-wrenching memoir that ruminates on higher education, class, and single motherhood….as infuriating as it is inspiring, and it should be considered required reading for anyone with even a passing interest in narratives of wealth and work, the lived experience of prejudicial U.S. safety net systems, or social justice."
—Shelf Awareness

"A riveting new memoir about life as a single mother trying to finish her college education and build a writing career after escaping poverty and abuse. Land crafts a poignant and eye-opening story about a failing educational system and the barriers and gatekeeping she faced both personally and professionally on the way to fulfilling her dreams."
—BookBub

Select Praise for Maid:

"A single mother's personal, unflinching look at America's class divide, a description of the tightrope many families walk just to get by, and a reminder of the dignity of all work."
—President Barack Obama, "Obama's 2019 Summer Reading List"

"More than any book in recent memory, Land nails the sheer terror that comes with being poor, the exhausting vigilance of knowing that any misstep or twist of fate will push you deeper into the hole."
—The Boston Globe

"Stephanie Land's memoir [Maid] is a bracing one."
—The Atlantic

"An eye-opening journey into the lives of the working poor."
—People, Perfect for Your Book Club

"The particulars of Land's struggle are sobering, but it's the impression of precariousness that is most memorable."
—The New Yorker

"[Land's] book has the needed quality of reversing the direction of the gaze. Some people who employ domestic labor will read her account. Will they see themselves in her descriptions of her clients? Will they offer their employees the meager respect Land fantasizes about? Land survived the hardship of her years as a maid, her body exhausted and her brain filled with bleak arithmetic, to offer her testimony. It's worth listening to."
—New York Times Book Review