Code Gray: Death, Life, and Uncertainty in the ER (Hardcover)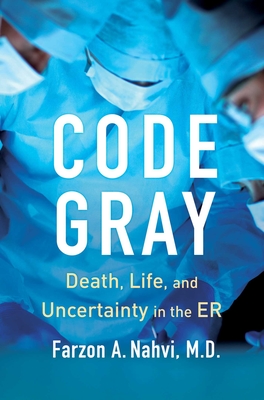 $27.99

Coming Soon - Available for Pre-Order Now
Description
---
Code Gray is a narrative-driven medical memoir that places you directly in the crucible of urgent life-or-death decision-making, offering insights that can help us cope at a time when the world around us appears to be falling apart.

In the tradition of books by such bestselling physician-authors as Atul Gawande, Siddhartha Mukherjee, and Danielle Ofri, this beautifully written memoir by an emergency room doctor takes place during one of his routine shifts at an urban ER. Intimately narrated as it follows the experiences of real patients, it is filled with fascinating, adrenaline-pumping scenes of rescues and deaths, and the critical, often excruciating follow-through in caring for the patients' families.

Centered on the riveting story of a seemingly healthy forty-three-year-old woman who arrives in the ER in sudden cardiac arrest, Code Gray weaves in stories that explore everything from the early days of the Covid outbreak to the perennial glaring inequities of our healthcare system. It offers an unforgettable portrait of challenges so profound, powerful, and extreme that normal ethical and medical frameworks prove inadequate. By inviting the reader to experience what it is like to work a shift in the ER from the perspective of a physician, we are forced to test our core beliefs and principles. Often, there are no clear answers to these challenges posed in the ER. We are left feeling unsettled, but through this process, we can come to appreciate just how complicated, emotional, unpredictable­—and yet strikingly beautiful—life can be.
About the Author
---
Farzon A. Nahvi is an ER physician at Concord Hospital in Concord, New Hampshire, and a clinical assistant professor of emergency medicine at the Geisel School of Medicine at Dartmouth. Prior to this, he worked as an ER physician and clinical assistant professor of emergency medicine at the Mount Sinai Health System, NYU Langone Health, NYC Health + Hospitals/Bellevue, and the Manhattan VA. He is a graduate of Cornell University and NYU Grossman School of Medicine. He has written for the New York Times, The Washington Post, The Guardian, Daily News (New York), New York magazine, and other publications. In April 2019, he testified as an expert witness before Congress in the nation's first Medicare for All hearing.
Praise For…
---
"Timely and nuanced, Farzon Nahvi's exploration of healthcare probes the grayscale of life, from the most human of details to the overarching systemic issues. As we grapple with unprecedented challenges to both healthcare and society, we are ever more in need of clear-eyed books like Code Gray."
— Danielle Ofri, MD, PhD, author of When We Do Harm: A Doctor Confronts Medical Error

"A provocative and meaningful book, Code Gray takes us to the hard places in health care, where the 'correct' treatment choices can be impossible to know. Fortunately, Dr. Nahvi is caring and percipient. He is an amazing guide to the portal separating life and death, sickness and health, and the real world and the hospital--that is, the modern Emergency Department."
— Theresa Brown, New York Times Bestselling author of Healing: When A Nurse Becomes a Patient and The Shift

"Farzon Nahvi creates a fast-moving primer in medical ethics and humanism while addressing many decisions made daily in the emergency room that are critical to life and well-being and always made with substantial uncertainty."
— Lewis R. Goldfrank, Professor of Emergency Medicine, New York University Grossman School of Medicine; Attending Physician Bellevue Hospital Center

"A window into not only what happens in Emergency Departments and hospitals around the country but also into the intense feelings experienced by those involved. Dr. Nahvi expertly captures the humanity of caring for patients as well, the toll it takes on each of us and the machinations we desperately construct to survive. Code Gray is poignant and painful and an important read."
— Anand Swaminathan M.D., M.P.H., St. Joseph's University Medical Center Emergency Department; Assistant Professor Emergency Medicine, Hackensack Meridian School of Medicine