Choices: To the Hills and Back Again (Hardcover)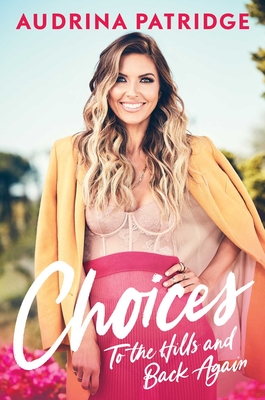 Description
---
From the star of MTV's The Hills and The Hills: New Beginnings, a candid and insightful reflection on aughts tabloid fame, the powerlessness and loss of self in toxic situations, and the life-changing power of even our smallest choices.

If you know Audrina Patridge from one of the most successful reality shows ever, MTV's The Hills, you know that she doesn't pull punches. For years, she hid the challenges she faced, but now, she's finally sharing her full story for the first time—and it's not a neat little story, tied with a bow. This is the unvarnished truth about being young and carefree in Los Angeles, filming The Hills, and getting access to the most exclusive parties, decadent restaurants, and VIP clubs. It's also the unvarnished truth about darker days, when she lost her confidence, her voice, and even her self-worth as she was pushed to the brink of losing almost everything.

Just like The Hills, Audrina is back and better than ever. In Choices, she's baring it all: the nearly soul-crushing struggles, the beauty of finally reclaiming her power, and the incredible experiences and behind-the-scenes details of The Hills. This is the story of an eighteen-year-old girl who took a chance and had the experience of a lifetime on a reality TV phenomenon that made her a household name and tabloid regular. But it's also the story of a thirty-six-year-old woman and mother who regained her voice after years in a series of unfulfilling and even toxic relationships. Deeply insightful and wonderfully entertaining, Choices is a story of redemption, renewed strength, and reckoning with the choices we make.
About the Author
---
Audrina Patridge is one of the original stars of the MTV series The Hills, a reality show and pop culture phenomenon that lasted from 2006 to 2010. In 2019, Audrina and the show returned to MTV with the highly anticipated reboot The Hills: New Beginnings. In the intervening decade, she launched the luxury swimwear label Prey Swim, traveled the world as the host of NBC's travel and lifestyle show 1st Look, and got married and divorced. She and her daughter currently reside in Southern California.
Praise For…
---
"Audrina owns her life and her choices, hence the memoir's title, and her hope that this book will help other young people navigating tough relationships leaps off every page…an honest portrait." –Booklist