Shorefall: A Novel (The Founders Trilogy #2) (Paperback)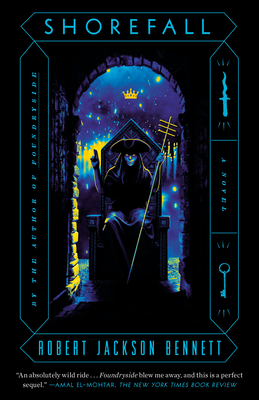 Other Books in Series
This is book number 2 in the The Founders Trilogy series.
Description
---
As a magical revolution remakes a city, an ancient evil is awakened in a brilliant novel from the Hugo-nominated author of Foundryside and the Divine Cities trilogy.

"An absolutely wild ride . . . Foundryside blew me away, and this is a perfect sequel."—Amal El-Mohtar, The New York Times Book Review
 
A few years ago, Sancia Grado would've happily watched Tevanne burn. Now, she's hoping to transform her city into something new. Something better. Together with allies Orso, Gregor, and Berenice, she's about to strike a deadly blow against Tevanne's cruel robber-baron rulers and wrest power from their hands for the first time in decades.
 
But then comes a terrifying warning: Crasedes Magnus himself, the first of the legendary hierophants, is about to be reborn. And if he returns, Tevanne will be just the first place to feel his wrath.
 
Thousands of years ago, Crasedes was an ordinary man who did the impossible: Using the magic of scriving—the art of imbuing objects with sentience—he convinced reality that he was something more than human. Wielding powers beyond comprehension, he strode the world like a god for centuries, meting out justice and razing empires single-handedly, cleansing the world through fire and destruction—and even defeating death itself.
 
Like it or not, it's up to Sancia to stop him. But to have a chance in the battle to come, she'll have to call upon a god of her own—and unlock the door to a scriving technology that could change what it means to be human. And no matter who wins, nothing will ever be the same.
 
The awe-inspiring second installment of the Founders Trilogy, Shorefall returns us to the world Robert Jackson Bennett created in his acclaimed Foundryside . . . and forges it anew.
About the Author
---
Robert Jackson Bennett is the author of Foundryside and the Divine Cities trilogy, which was a Hugo Awards finalist in the Best Series category. The first book in the series, City of Stairs, was also a finalist for the World Fantasy and Locus Awards, and the second, City of Blades, was a finalist for the World Fantasy, Locus, and British Fantasy Awards. His previous novels have received the Edgar Award, the Shirley Jackson Award, and the Philip K. Dick Citation of Excellence. He lives in Austin with his family.
Praise For…
---
"The book I've most thoroughly and uncomplicatedly enjoyed this year so far. It shocked and delighted and upset me from page to page, managing to thread humor and pathos and intrigue together with the speed and precision of a loom. Its comments on our present moment are so deft and sly that when they turn earnest it's deeply affecting . . . [and] sometimes brought me to tears. . . . I'm so excited to see what happens next."—Amal El-Mohtar, The New York Times

"Shorefall is a slice of genius slathered with unfiltered madness; it is an innovation on invention. I want to scrive in this world, to create and experiment with Berenice and Orso, to scale towers and improvise with Sancia, to fight battles and defend my friends with Gregor. I loved this book."—Fantasy Book Review

"The large-scale conflicts, new characters, and climactic ending set the stage for more exciting action and adventure to come in the complex, ever-expanding world of the series."—Booklist (starred review)
 
"Bennett's characterization . . . strikes a perfect balance between terror and allure. This thrilling installment will leave readers eager for the series finale."—Publishers Weekly
 
"An expertly spun yarn by one of the best fantasy writers on the scene today."—Kirkus Reviews