Mindf*ck: Cambridge Analytica and the Plot to Break America (Hardcover)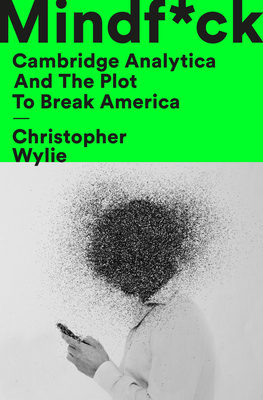 $28.00
This book is not in our store, but most are available for us to get in short order! Send us a message.
Description
---
For the first time, the Cambridge Analytica whistleblower tells the inside story of the data mining and psychological manipulation behind the election of Donald Trump and the Brexit referendum, connecting Facebook, WikiLeaks, Russian intelligence, and international hackers.

"Mindf*ck demonstrates how digital influence operations, when they converged with the nasty business of politics, managed to hollow out democracies."—The Washington Post

Mindf*ck goes deep inside Cambridge Analytica's "American operations," which were driven by Steve Bannon's vision to remake America and fueled by mysterious billionaire Robert Mercer's money, as it weaponized and wielded the massive store of data it had harvested on individuals—in excess of 87 million—to disunite the United States and set Americans against each other. Bannon had long sensed that deep within America's soul lurked an explosive tension. Cambridge Analytica had the data to prove it, and in 2016 Bannon had a presidential campaign to use as his proving ground.

Christopher Wylie might have seemed an unlikely figure to be at the center of such an operation. Canadian and liberal in his politics, he was only twenty-four when he got a job with a London firm that worked with the U.K. Ministry of Defense and was charged putatively with helping to build a team of data scientists to create new tools to identify and combat radical extremism online. In short order, those same military tools were turned to political purposes, and Cambridge Analytica was born.

Wylie's decision to become a whistleblower prompted the largest data-crime investigation in history. His story is both exposé and dire warning about a sudden problem born of very new and powerful capabilities. It has not only laid bare the profound vulnerabilities—and profound carelessness—in the enormous companies that drive the attention economy, it has also exposed the profound vulnerabilities of democracy itself. What happened in 2016 was just a trial run. Ruthless actors are coming for your data, and they want to control what you think.
About the Author
---
Christopher Wylie has been called "the millennials' first great whistleblower" and "a pink-haired, nose-ringed oracle sent from the future." He is known for his role in setting up—and then taking down—Cambridge Analytica. His revelations exposing the rampant misuse of data rocked Silicon Valley and led to some of the largest multinational investigations into data crime ever. Born in British Columbia, Canada, he studied law at the London School of Economics before moving into cultural data science and fashion trend forecasting. He lives in London, England.
Praise For…
---
"Wylie covers plenty of ground, explaining in illuminating and often scary detail how Cambridge Analytica exploited the data to create Facebook pages that would needle 'neurotic, conspiratorial citizens,' propagating an outraged solidarity."—The New York Times

"Mindf*ck is worth reading if you're interested in some of the bigger questions of the day: elections; data; Russia's involvement in all of this; Steve Bannon's power plays in global politics; the list of politicians who make an appearance at the Cambridge Analytica offices. . . . The book does serve as a reminder that it might be time to check in with yourself and your relationship with the internet. Wylie talks about invading America by 'purposefully activating the worst in people, from paranoia to racism.' Especially in relation to a certain company that sees regulation of its industry as an 'existential threat,' it's a nice time to really wonder—sure, online feels good. But is it worth it?"—NPR

"Mindf*ck demonstrates how digital influence operations, when they converged with the nasty business of politics, managed to hollow out democracies. . . . [Wylie's] personal story, woven into the book's narrative, illustrates the confusion of our current political era as well as the challenge to Wylie's fellow members of the social media generation as they seek identities real and imagined, physical and virtual. . . . He makes clear how important the virtual world is to personal identity for his generation and those that follow."—The Washington Post
Coverage from NPR