The Comic Book Guide to Growing Food: Step-by-Step Vegetable Gardening for Everyone (Paperback)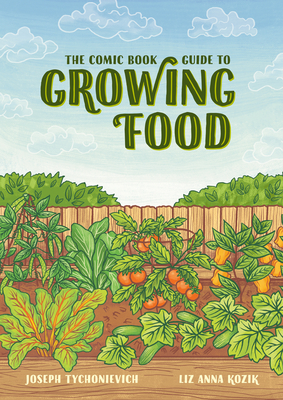 $19.99
This book is not in our store, but most are available for us to get in short order! Send us a message.
Description
---
The first graphic novel guide to growing a successful raised bed vegetable garden, from planning, prepping, and planting, to troubleshooting, care, and harvesting.

"A fun read packed with practical advice, it's the perfect resource for new gardeners, guiding you through every step to plant, grow, and harvest a thriving and productive food garden."—Joe Lamp'l, founder and creator of the Online Gardening Academy

Like having your own personal gardening mentor at your side, The Comic Book Guide to Growing Food is the story of Mia, an eager young professional who wants to grow her own vegetables but doesn't know where to start, and George, her retired neighbor who loves gardening and walks her through each step of the process. Throughout the book, "cheat sheets" sum up George's key facts and techniques, providing a handy quick reference for anyone starting their first vegetable garden, including how to find the best location, which vegetables are easiest to grow, how to pick out the healthiest plants at the store, when (and when not) to water, how to protect your plants from pests, and what to do with extra produce if you grow too much.

If you are a visual learner, beginning gardener, looking for something new, or have struggled to grow vegetables in the past, you'll find this unique illustrated format ideal because many gardening concepts--from proper planting techniques to building raised beds--are easier to grasp when presented visually, step by step. Easy and entertaining, The Comic Book Guide to Growing Food makes homegrown vegetables fun and achievable.
About the Author
---
Joseph Tychonievich was named by Organic Gardening magazine as one of six young horticulturalists who are helping shape how America gardens. He writes regularly for national gardening magazines such as Fine Gardening and Horticulture, and is a repeated guest on NPR's Splendid Table and popular gardening podcasts such as A Way to Garden. Joseph is the author of Plant Breeding for the Home Gardener and Rock Gardening, and he gives gardening presentations to audiences across the country. He lives with his husband, two cats, a dog, and an absurd number of plants in Williamsburg, Virginia.

Liz Anna Kozik is a comics illustrator with an MFA in design, and currently in a PhD program at the University of Wisconsin-Madison with an emphasis on environmental studies and native plants.
Praise For…
---
"This small book . . . is a delight. The art is wonderfully clear and realistic . . . the characters have character, keeping the reader engaged with the plot (oh, not a deliberate pun!). This will be a great book for new gardeners."—Comics Journal

"Unlike the typical weighty garden tome—so many pages, so much jargon!—this book is light, bright and welcoming, the very opposite of intimidating."—San Jose Mercury News

"Joseph and Liz bring the fun to food gardening! But this innovative book is also packed with solid garden advice that will help you grow a bumper crop of homegrown vegetables. Essential reading for every would-be vegetable gardener."—Niki Jabbour, author of The Year-Round Vegetable Gardener, Niki Jabbour's Veggie Garden Remix, and Growing Under Cover
 
"Get ready to learn and laugh! The adventures of George and Mia will help all vegetable gardeners along the path of creating a sustainable space for growing food. This breezy, funny cartoon gives us hard facts and sound advice on positioning the vegetable garden, soil testing, choosing plants, and more—and simultaneously shows us how strong friendships are made over gardens and food. This is one to own and share, and I plan on doing both!"—Ivette Soler, garden designer and author of The Edible Front Yard

"Don't be fooled by how entertaining this book is: A next generation of vegetable gardeners is about to get an insider's immersion course in smart gardening, thanks to Joseph and Liz."—Margaret Roach, gardening author and founder of A Way to Garden podcast, radio show, and blog

"Equally charming and useful, this illustrated introduction to gardening is a delightful resource for anyone looking to dig into homegrown veggies."—Publisher's Weekly