Bourdain: The Definitive Oral Biography (Compact Disc)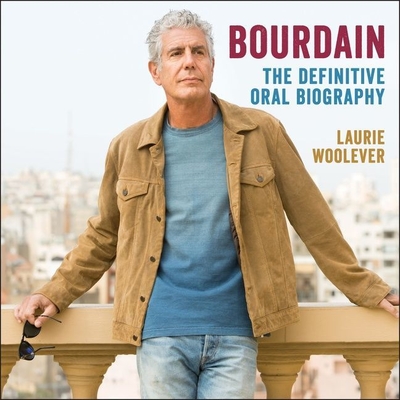 $46.99
This book is not in our store, but most are available for us to get in short order! Send us a message.
Description
---
An unprecedented behind-the-scenes view into the life of Anthony Bourdain from the people who knew him best.
When Anthony Bourdain died in June 2018, fans around the globe came together to celebrate the life of an inimitable man who had dedicated his life to traveling nearly everywhere (and eating nearly everything), shedding light on the lives and stories of others. His impact was outsized and his legacy has only grown since his death.
Now, for the first time, we have been granted a look into Bourdain's life through the stories and recollections of his closest friends and colleagues. Laurie Woolever, Bourdain's longtime assistant and confidante, interviewed nearly a hundred of the people who shared Tony's orbit--from members of his kitchen crews to his writing, publishing, and television partners, to his daughter and his closest friends--in order to piece together a remarkably full, vivid, and nuanced vision of Tony's life and work.
From his childhood and teenage days, to his early years in New York, through the genesis of his game-changing memoir Kitchen Confidential to his emergence as a writing and television personality, and in the words of friends and colleagues including Eric Ripert, Jos Andr's, Nigella Lawson, and W. Kamau Bell, as well as family members including his brother and his late mother, we see the many sides of Tony--his motivations, his ambivalence, his vulnerability, his blind spots, and his brilliance.
Unparalleled in scope and deeply intimate in its execution, with a treasure trove of photos from Tony's life, Bourdain: The Definitive Oral Biography is a testament to the life of a remarkable man in the words of the people who shared his world.
Featuring the voices of Adam Epstein - Alex Getmanov - Alex Lowry - Alison Mosshart - Amy Entelis - Ben Selkow - Beth Aretsky - Bonnie McFarlane - Chris Collins - Christiane Amanpour - Christopher Bourdain - Daniel Halpern - Dave McMillan - David Choe - David Rosenthal - Diane Schutz - Eileen Opatut - Fred Morin - Helen Cho - Helen Lang - Hilary Snyder - James Graham - Jared Andrukanis - Jason Rezaian - Jeff Allen - Jeff Formosa - Jeff Zucker - Joe Coleman - Joel Rose - John Lurie - Jos Andr's - Josh Ferrell - Karen Rinaldi - Kimberly Witherspoon - Laurie Barnett - Laurie Woolever - Lenny Mosse - Lizzie Fox - Lolis Elie - Lydia Tenaglia - Maria Bustillos - Matt Goulding - Matt Walsh - Michael Ruhlman - Michael Steed - Mike Ruffino - Morgan Fallon - Mustafa Bhagat - Nari Kye - Natasha Phan - Nathan Thornburgh - Nick Brigden - Nigella Lawson - Panio Gianopoulos - Pat Younge - Patrick Radden Keefe - Patti Jackson - Peter Meehan - Philip Lajaunie - Rennik Soholt - Rob Stone - Robert Vuolo - Robin Standefer - Roy Choi - Sally Freeman - Sam Goldman - Sam Sifton - Sandy Zweig - Shant Petrossian - Steven Tempel - Todd Liebler - Tom Vitale - W. Kamau Bell - Web Stone - Whitney Ward - Yeganeh Rezaian - Aspen Miller - Barbara Rosenblatt - Billie Fulford-Brown - Cheryl Smith - Dan Bittner - Ewan Chung - Gabra Zackman - George Newbern - Hillary Huber - James Lurie - Jason Culp - Jean Brassard - Joe Knezevich - Oliver Wyman - Rob Shapiro - Roger Wayne
Supplemental enhancement PDF accompanies the audiobook.