Dark Psychology for Beginners: How to Analyze Anyone Through Mind Manipulation Techniques and Dark Psychology Tactics (Paperback)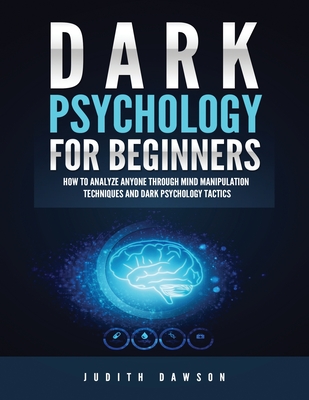 $14.99

Usually Ships in 1-5 Days
Description
---
Dark psychology is a fascinating field of studying the mind, and how we can use various techniques in both subtle and significant ways to get what we want. Persuasion and manipulation can become a powerful set of skills that can benefit you in various scenarios and situations where they are effectively used. Tapping into your charm and charisma can also lead to securing strong connections with people and influencing them for many advantages, from personal relationships and building social circles to improving your prospects at work and beyond. With this book, you'll gain a new perspective on how to read and understand people, while learning more about which techniques and habits you'll need for success...
In this book you'll learn:
The basics of dark psychology: understanding the underlying principles and how they can work for you.
How dark psychology is effective and who uses it today in business, politics, advertising, and within your network of friends and colleagues.
An introduction to neuro-linguistic programming (NLP) and how this practice can sharpen your ability to control and influence people.
The value of hypnosis and why it is a powerful way to have a stronger influence and effect over people.
How to develop charisma, charm, and build a rapport with anyone.
Manipulation and persuasion: the similarities and differences, and how to know which technique to apply for best results.
Reading people and how to decipher their true intentions, from body language and non-verbal cues to gestures and subtle, hidden signs that indicate what people want.
Learning the advantages of dark psychology and what works best in various situations will give you the tools you need to succeed on your terms, and by using other people and their influence to move ahead. Imagine harnessing the ability to decode the true nature of your boss, coworker, or colleague to unleash hidden agendas that you can use to your advantage. By learning simple yet effective ways to read other people and understand their real intentions, you'll be able to take the upper hand and gain more control and knowledge than ever before. Furthermore, you'll avoid many pitfalls of becoming prey to someone else's manipulative tactics by knowing exactly what to look for and avoiding the negative impact of these situations, while boosting your chances of gaining the advantage over others.
If you are new to the world of dark psychology, there are many ways to learn and benefit from simple exercises of observation and proactive behavior to develop more elaborate and engaging ways to create a strong level of influence, whether you know the person well or you're meeting them for the first time. There are many intriguing and exciting ways that we can connect with people for our advancement and pursuit of more in life- from closing your first sale, to developing a relationship with someone you would never consider possible. There is a strategy for everyone to succeed on their terms with the right attitude and ambition
--- Get your copy of Dark Psychology for Beginners today ---