Manipulation Techniques: Discover How to Analyze People Through Mind Manipulation, Psychological Techniques and Body Language (Paperback)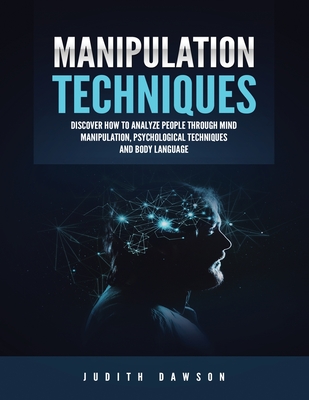 $19.99

Usually Ships in 1-5 Days
Description
---
Are you interested in learning about manipulation? Have you wondered what you could do if you wanted to control other people in your life? If so, then this book could be exactly what you're looking for. When it comes to being able to influence and control the minds of other people, you want to ensure that you know what you're doing.

Remember, not all manipulation is bad. Manipulation is simply to mold someone-to make them do something through the power of your own influence. When you influence someone else through manipulation, you covertly pull strings to get them to do whatever it is that you need from them. You can frame something a certain way, or you behave a certain way as well. You can choose to talk to someone to convince them to change up their thought processes, or you can persuade them to take your side by utilizing the principles of persuasion. One thing is for sure, however-there are many, many different options that you can use to make people believe whatever it is that you want.

Through developing the right way to approach the situation, you can put yourself in that position to help yourself. If you wanted to do so, you could make it happen yourself. When you read through this book, you'll learn precisely how to influence and control the people around you. From emotional manipulation to persuasion and mind control, you can develop the ability to learn these different skills so you can be successful at influencing other people...

In this book you'll learn:

An understanding of what manipulation is and how it works
Why the subconscious mind is key in using these techniques
How you can begin to manipulate others
Using emotional manipulation on other people to get them to do what you want when you want
Using mind control on other people and how it works
Using NLP on people, as well as several different methods that you can use
Discovering the power of body language and how it can influence other people with simple changes to how you stand about
Developing the ability to utilize the principles of persuasion to control other people with your words, convincing them to trust your judgment
Learning how to hypnotize people with ease so you can speak directly to their subconscious minds
Discovering the power of reverse psychology and how it works
Learning how to spot manipulation before it happens to you
And much more...
With this book, you can learn how to control other people and how to protect yourself as well. If you're ready to take control so you can be in charge, then you're in the right place-let's get started to see what you need to do
--- Get your copy of Manipulation Techniques today ---