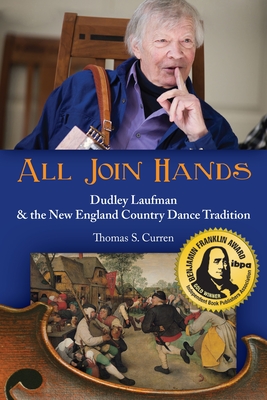 Tuesday, May 16th 2023, 6:30 p.m.
Author and folk musician Thomas S Curren visits Gibson's Bookstore to present his new book, All Join Hands Dudley Laufman and the New England Country Dance Tradition. Dudley Laufman himself will be there to join Tom in conversation, and promises a musical performance as well!
In New England, there has long been a deep affection for traditional dance and its corresponding music. Folk dance joins us together, lifting us out of inhibitions, anxieties, and our acculturated need to exert control. It requires our participation as individuals, yet we embrace it as an exercise in group dynamics. The Yankee instinct for community art has been the inspiration behind Dudley Laufman's lifelong stewardship of country dance, which is the story at the heart of All Join Hands.
Years of performances in famous venues and small villages led to Laufman receiving the NEA's National Heritage Fellowship Award, the nation's highest honor in the folk and traditional arts. In reaction, Ernest Thompson, New Hampshire resident and author of On Golden Pond, declared "I think Dudley Laufman belongs in the pantheon of genuine American artists. He belongs in Franconia Notch, the real Old Man of the Mountain."
Thomas S. Curren is a writer, farmer, conservationist, and historian. He has served as a town selectman, a town moderator, and a non-profit consultant, and volunteers for the Folk New England Archive at the University of Massachusetts. As project director with the Pew Charitable Trusts and as director of local conservation organizations, he has helped enable the conservation of nearly 900,000 acres in New England, New York, and Pennsylvania's Amish country. An authority on New England culture and landscape, his previous books include I Believe I'll Go Back Home: Roots and Revival in New England Folk Music as well as four histories of New Hampshire towns. Part of the group "The Good Old Plough," he plays and sings traditional music—at times with Dudley Laufman and friends. He lives in rural New Hampshire.
Event date:
Tuesday, May 16, 2023 - 6:30pm

$25.00

ISBN: 9781942155553
Availability: On Our Shelves Now
Published: Thomas Curren - May 1st, 2023
All Join Hands is the story of what happened when a ten-thousand-year-old musical tradition was
put into the hands of a seventeen-year-old Boston boy in 1947. While in high school, Dudley
Laufman apprenticed with fiddlers and callers throughout New England. Eventually, he squired
---