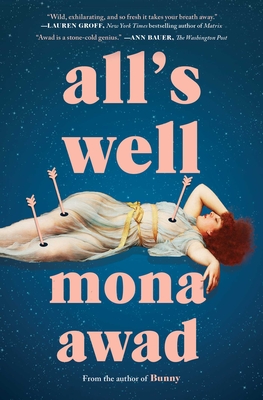 Tuesday, August 9th, 2022, 7pm ET. Online only, via Zoom. Registration required: https://www.eventbrite.com/e/379810321897
Did you miss this event? You can watch the recording on the Gibson's Bookstore Youtube channel! https://youtu.be/WvVPC5uXu0o
Gibson's Bookstore is pleased to welcome Mona Awad back for a virtual visit! Her new novel, All's Well, follows a theater professor who is convinced staging Shakespeare's most maligned play will remedy all that ails her—but at what cost?
Here's what Bookseller Jo, our resident Shakespeare aficionado, had to say about All's Well:
Sharp and darkly funny, All's Well blends themes from Shakespeare into an acerbic commentary on women's pain. In the midst of trying to save her production of All's Well The Ends Well from a mutinous cast bent on putting on Macbeth, Miranda is approached by three men offering to help her with her chronic pain. Readers will find themselves unable to put this book down as they are caught up in Miranda's vertiginous spiral of self indulgence and paranoia.
Sign up for the events-specific email newsletter from Gibson's Bookstore! Separate from our main store newsletter, this newsletter sends you notices when we book events, and what our upcoming events are! We promise not to sell your email address. https://signup.e2ma.net/signup/1947324/1359315/
Event date:
Tuesday, August 9, 2022 - 7:00pm