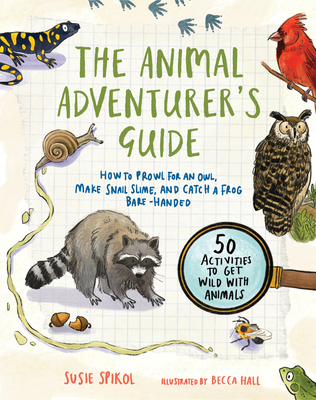 Saturday, September 24th, 2022, 11 am at Gibson's Bookstore
Susie Spikol comes down to Concord and to Gibson's to teach your kiddos how to find critters in their neighborhood, with The Animal Adventurer's Guide: How to Prowl For an Owl, Make Snail Slime, and Catch a Frog Bare-Handed. 50 hands-on activities and adventures that bring you closer to wild animals than you've ever been. Susie will be bringing supplies for one of the crafts from the book, as well!
Have you ever followed animal tracks in the mud or chased after the glowing trail of a firefly in the night sky? Want to know how to hold a snake, feed a bird from your hat, and help salamanders cross the road? If so, you're not just an animal lover—you're an animal adventurer, and this is the book for you. It's packed full of hands-on activities and projects that bring you closer to wild animals than ever before—from feathery birds and furry mammals to slippery herps, crawly arthropods, and other intriguing invertebrates. You'll get insider tips about tools and techniques of the trade, become a citizen scientist, and then record handy field notes about all your amazing animal discoveries.
Masks are strongly encouraged but no longer required for vaccinated attendees. We can't predict the future course of the pandemic, so Gibson's reserves the right to institute masking and/or vaccination rules for this event as circumstances dictate.
About the author: Susie Spikol is a naturalist at the Harris Center for Conservation Education in Hancock, NH. For more than 30 years she has been helping people of all ages make positive and sustainable connections to the environment.
Sign up for the events-specific email newsletter from Gibson's Bookstore! Separate from our main store newsletter, this newsletter sends you notices when we book events, and what our upcoming events are! We promise not to sell your email address. https://signup.e2ma.net/signup/1947324/1359315/
Event date:
Saturday, September 24, 2022 - 11:00am

$17.95

ISBN: 9781611809534
Availability: On Our Shelves Now
Published: Roost Books - September 13th, 2022
Calling all animal lovers! 50 hands-on activities and adventures that bring you closer to wild animals than you've ever been.

---