Thursday, June 28th, 2018, 5:30 p.m.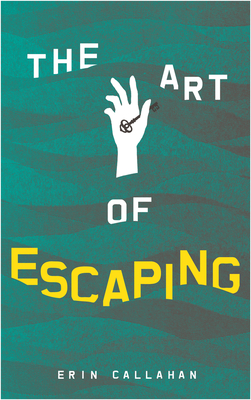 Pembroke's own Erin Callahan presents her sparkling new Young Adult debut novel, The Art of Escaping!
I stripped down to my bathing suit and gripped the ladder to the top of the tank with my shaky fingers. A little voice hissed through my mind. You can't do this. You're out of your damn mind. Stop. Go back to your quiet little life. I swallowed the voice and started the climb.
Seventeen-year-old Mattie is hiding her obsession with Harry Houdini and Dorothy Dietrich from everyone, including her best friend Stella. When Stella takes off to boarding school for the summer, all of Mattie's anxieties bubble to the surface, leaving her feeling adrift. To distract herself, she seeks out Miyu, the reclusive daughter of a world-renowned escape artist whose life and career were snuffed out by a tragic plane crash.

With Miyu's help, Mattie secretly transforms herself into a burgeoning escapologist and performance artist. Away from the curious eyes of her peers, she thrives in her new world of lock picking, straitjackets, and aquarium escapes. But when Will, a popular varsity athlete from her high school, discovers her act at an underground venue, she fears that her double life is about to be exposed. But instead of outing her, Will tells Mattie something he's never told anyone before and the two of them find out that not all secrets can remain secret forever.

Told through the perspectives of the witty main characters, this funny and fresh debut explores the power of stage personas and secret spaces, and speaks to the uncanny ways in which friendships transform us.
About the author: Erin grew up by a small glacial lake in New Hampshire and, after brief stints in Colorado and Rhode Island, she settled back in the Granite State with her husband and daughter. As a small child, she told her mother she'd defaced a wall with crayons because she'd been possessed by an imp. She's convinced that same imp drives her to write. When she's not at her day job or cranking out novels on her laptop, you can find her soaking in the new golden era of television, stalking her favorite musicians on Twitter, and trying not to embarrass herself on the volleyball court. She loves giant squids and the color red, hates the phrase "no offense," and thinks birds are creepy.
Event date:
Thursday, June 28, 2018 - 5:30pm

$12.99
ISBN: 9781944995652
Availability: Usually Ships in 1-5 Days
Published: Amberjack Publishing - June 19th, 2018
Seventeen-year-old Mattie has a hidden obsession: escapology. Emphasis on hidden. If anyone from school finds out, she'll be abandoned to her haters. Facing a long and lonely summer, Mattie finally seeks out Miyu, the reclusive daughter of a world-renowned escape artist.
---