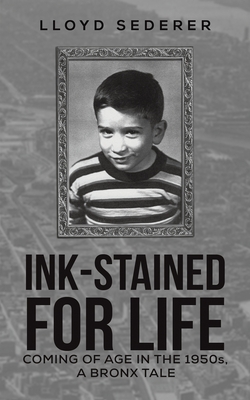 Wednesday, October 28th, 2020, 7pm Eastern. Online only via Zoom. Registration required: https://www.eventbrite.com/e/124786284135
Did you miss this event? You can watch the recording on our Youtube channel! https://youtu.be/trTVPiaIFjA
From one of the most prominent mental health experts of our time, a memoir told in 14 essays. Through these tales from when he was 8 until 17, and their modern-day essay expositions, Dr Lloyd Sederer illustrates our times and the perspectives gained as a family man, a psychiatrist, and a public health doctor more than five decades later, in Ink-Stained for Life.
Dr Sederer will be joined in conversation by Dr Andrew Chen, the chief medical officer of the US Olympic Ski Team.
Lloyd I. Sederer, MD, was for 12 years the Chief Medical Officer for the NYS Office of Mental Health, the nation's largest state mental health agency - and continues there as Distinguished Psychiatrist Advisor; and Contributing Writer for Psychology Today, the NY Journal and Washington Independent Review of Books, among many other publications. He was Medical Editor for Mental Health for the HuffPost, where over 250 of his posts were published. He has served as Mental Health commissioner for NYC; Medical Director/EVP for McLean Hospital, a Harvard teaching facility; and as Director of Clinical Services for the American Psychiatric Association. He has written hundreds of articles on mental health, the addictions and book, film, TV and theatre reviews, and has published a dozen books.
Dr. Sederer was the 2019 recipient of the Doctor of the Year award from The National Council on Behavioral Health. He is a Co-Founder and CMO of SessionTogether and Chair of the Advisory Board of Get Help. He has taught medical writing for the lay public for 17 sequential semesters at the Columbia Department of Psychiatry/The NYS Psychiatric Institute. He recently founded and now directs Columbia Psychiatry Media.
Event harassment policy:
We expect all participants to maintain an atmosphere of respect and fairness. Anyone who violates this standard of behavior, including engaging in any form of harassment, or otherwise disrupts the event, may, at the discretion of the organizers, be immediately removed. Participants removed as a result of their behavior will not receive any refund.
Event date:
Wednesday, October 28, 2020 - 7:00pm

$13.95
ISBN: 9781645757702
Availability: Usually Ships in 1-5 Days
Published: Austin Macauley - September 30th, 2020
"Walking with Lloyd through the pages of Ink-Stained for Life will make you laugh, and think, and cheer, and deeply feel what gives meaning to life. A page-turning jaunt of joy. " -- Ron Suskind Pulitzer prize-winning author of A Hope in the Unseen, The One Percent Doctrine and Life, Animated In the 1950s, America was coming of age.
---

$16.00
ISBN: 9781501179457
Availability: Usually Ships in 1-5 Days
Published: Scribner - February 19th, 2019
A groundbreaking, "timely and well-written" (Booklist, starred review) guide to addiction from a psychiatrist and public health doctor, offering practical, proven solutions for individuals, families, and communities dealing with substance use and abuse.

Written with warmth, accessibility, and vast authority, The Addiction Solution is a practical guide
---
$18.95
ISBN: 9780393710632
Availability: Usually Ships in 1-5 Days
Published: W. W. Norton & Company - January 19th, 2015
More than fifty million people a year are diagnosed with some form of mental illness. It spares no sex, race, age, ethnicity, or income level. And left untreated, mental disorders can devastate our families and communities. Family members and friends are often the first to realize when someone has a problem, but it is hard to know how to help or where to turn.
---