Monday, September 14th, 2020, 7:15pm EDT, online only via Zoom, registration required: https://www.eventbrite.com/e/118221921951/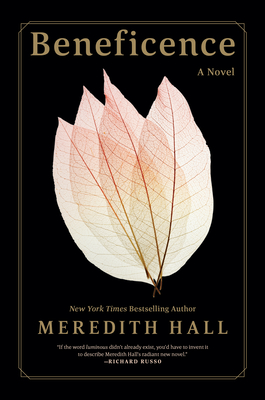 "If the word 'luminous' didn't already exist, you'd have to invent it to describe Meredith Hall's radiant new novel Beneficence."--Richard Russo
Meredith Hall (Without A Map) visits Gibson's Bookstore virtually to share her radiant debut novel, Beneficence, a study of love--both its gifts and its obligations--that will stay with readers long after the last page. With a rare tenderness and compassion, Beneficence illuminates the heart's enduring covenants and compromises. Meredith will be joined in conversation by Wesley McNair at this special pre-publication day event.
When they meet in the 1930s, Doris and Tup's love is immediate. They marry quickly and Doris commits to the only life Tup ever wanted: working the Senter family farm, where his parents and grandparents and great-grandparents are buried under the old pines. Their lives follow the calming rhythms of the land--chores in the cow barn, haying the fields, tending their gardens--and in this they find immeasurable joy.
Soon their first child, Sonny, is born and Doris and Tup understand they are blessed. More children arrive--precocious, large-hearted Dodie and quiet, devoted Beston--but Doris and Tup take nothing for granted. They are grateful every day for the grace of their deep bonds to each other, to their family, and to their bountiful land. As they hold fast to this contentment, Doris is uneasy, and confesses, "We can't ever know what will come."
When an unimaginable tragedy turns the family of five into a family of four, everything the Senters held faith in is shattered. The family is consumed by a dark shadow of grief and guilt. Slowly, the surviving Senters must find their way to forgiveness--of themselves and of each other.
Event date:
Monday, September 14, 2020 - 7:15pm

$25.95
ISBN: 9781567926699
Availability: Coming Soon - Available for Pre-Order Now
Published: David R. Godine Publisher - October 20th, 2020
A profoundly moving family saga, one of the most widely praised novels of the year. "If the word 'luminous' didn't already exist, you'd have to invent it to describe Meredith Hall's radiant new novel Beneficence."--Richard Russo
---

$16.00
ISBN: 9780807072745
Availability: On Our Shelves Now
Published: Beacon Press - April 1st, 2008
Meredith Hall's moving but unsentimental memoir begins in 1965, when she becomes pregnant at sixteen. Shunned by her insular New Hampshire community, she is then kicked out of the house by her mother. Her father and stepmother reluctantly take her in, hiding her before they finally banish her altogether.
---

$16.95
ISBN: 9781567926637
Availability: On Our Shelves Now
Published: David R. Godine Publisher - April 7th, 2020
A New England Book Award Finalist. "There's so much life in this beautiful book that it feels like a living thing. Wesley McNair is a kind of Chekhov of American poetry."--Ted Kooser, Pulitzer Prize winner and Poet Laureate.
---