Wednesday, May 24th, 2017, 5:30 p.m.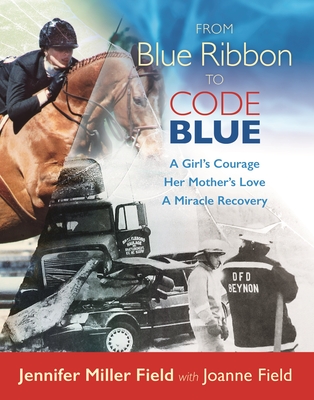 At age seventeen, Jennifer Miller Field had her sights set on the Olympic equestrian team when a near-fatal car accident left her comatose and brain-damaged. Unable to walk, talk, or eat on her own, over the next ten years Jennifer battled physical, mental, and emotional obstacles to regain her physical independence, graduate from college, and become a nationally-known speaker. Join Gibson's as she presents her story, in From Blue Ribbon to Code Blue: A Girl's Courage, Her Mother's Love, a Miracle Recovery.
Jennifer barely survived the accident. Doctors warned her mother that Jennifer would never again walk or talk or be anything close to "normal." And she would make all of her progress in the first year.
This is the story of a bullet-proof mother-dauther relationship, a duo that never gave up, and refused to hear "no." Jennifer's mom also wasn't afraid to ask for help, and left no stone unturned, seeking any therapy that might help her daughter. Some of these treatments were so far out, that Joanne had to sneak out of the room before she burst out laughing. There is love, sorrow, humor, and triumph throughout.
For the past 15 years, Jennifer has shared her story as an inspirational keynote speaker. She wrote this book as another way to deliver her message of hope to others-- to cheer them on, no matter what their challenge.
Event date:
Wednesday, May 24, 2017 - 5:30pm

$24.95
OUT OF PRINT: Email or call for price
ISBN: 9781941934036
Published: Grove Street Books - October 11th, 2016
From a young age, Jennifer Field was in love with horses and riding. Blessed with natural talent, she was headed for the Olympics when a traumatic brain injury took that dream away. From Blue Ribbon to Code Blue tells the inspiring story of her courageous fight to regain her health and her life, and of her mother's unfailing love and support along the way.
---