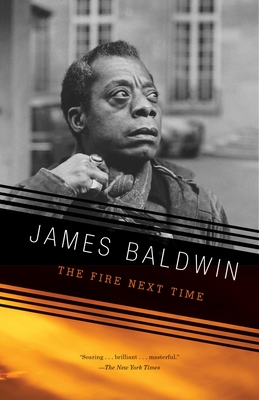 Monday, February 1st, 2021, 5:30 p.m. Online only, via Zoom. Registration is free but required: https://us02web.zoom.us/meeting/register/tZwrdeiqpjopGtbJnO5oYBshjoxQ9s0c7CCu
Gibson's Book Club has gone virtual! This month we are reading and discussing The Fire Next Time, by James Baldwin.
Our book club is free and open to the public, newcomers are encouraged! Join us for every month, or deal yourself in as the spirit moves you.
Our book club is open to all, and democratically run by the participants. We've chosen an eclectic, ambitious list of books for the coming year: join us for every meeting, or deal yourself in as the spirit moves you.
Event date:
Monday, February 1, 2021 - 5:30pm

$13.95
ISBN: 9780679744726
Availability: Usually Ships in 1-5 Days
Published: Vintage - December 1st, 1992
An official Oprah Winfrey's "The Books That Help Me Through" selection

A national bestseller when it first appeared in 1963, The Fire Next Time galvanized the nation, gave passionate voice to the emerging civil rights movement—and still lights the way to understanding race in America today.  

---