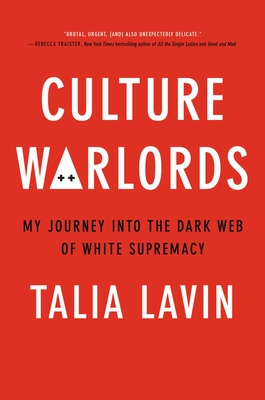 Monday, January 3rd, 2022, 5:30 pm, in-store, in-person
This month Gibson's Book Club is reading Culture Warlords: My Journey into the Dark Web of White Supremacy, by Tal Lavin.
We will not be sharing food or beverages. We're also sticking to a one hour time limit, and will be clearing the store at 6:30pm.
Our book club is free and open to the public, newcomers are encouraged to try us out! Club books are chosen democratically by the participants; they've chosen an eclectic, ambitious list of books for the coming year: join us for every meeting, or deal yourself in as the spirit moves you.
Event date:
Monday, January 3, 2022 - 5:30pm

$17.99

ISBN: 9780306846458
Availability: On Our Shelves Now
Published: Legacy Lit - October 12th, 2021
A NEW YORK TIMES BOOK REVIEW Editor's Choice/Staff Pick

One reporter takes an immersive dive into white supremacy's explosive online presence, exploring the undercurrents of propaganda, racism, misogyny, and history that led us to where we are now.

Talia Lavin is every skinhead's worst nightmare: a loud and unapologetic Jewish woman, acerbic, smar
---