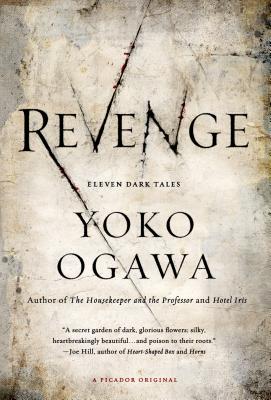 Monday, November 6th, 2023, 5:30 pm
In November the Gibson's Book Club is reading and discussing Revenge: Eleven Dark Tales by Yoko Ogawa (translated by Stephen Snyder).
Sinister forces collide---and unite a host of desperate characters---in this eerie cycle of interwoven tales from Yoko Ogawa, the critically acclaimed author of The Housekeeper and the Professor.
An aspiring writer moves into a new apartment and discovers that her landlady has murdered her husband. Elsewhere, an accomplished surgeon is approached by a cabaret singer, whose beautiful appearance belies the grotesque condition of her heart. And while the surgeon's jealous lover vows to kill him, a violent envy also stirs in the soul of a lonely craftsman. Desire meets with impulse and erupts, attracting the attention of the surgeon's neighbor---who is drawn to a decaying residence that is now home to instruments of human torture. Murderers and mourners, mothers and children, lovers and innocent bystanders---their fates converge in an ominous and darkly beautiful web.
Yoko Ogawa's Revenge is a master class in the macabre that will haunt you to the last page.
Our book club is free and open to the public, newcomers are encouraged to try us out! Club books are chosen democratically by the participants; they've chosen an eclectic, ambitious list of books for the coming year: join us for every meeting, or deal yourself in as the spirit moves you.
Event date:
Monday, November 6, 2023 - 5:30pm

$17.00

ISBN: 9780312674465
Availability: On Our Shelves Now
Published: Picador - January 29th, 2013
"It's not just Murakami but also the shadow of Borges that hovers over this mesmerizing book… [and] one may detect a slight bow to the American macabre of E.A. Poe. Ogawa stands on the shoulders of giants, as another saying goes.
---

$18.00

ISBN: 9780312427801
Availability: Usually Ships in 1-5 Days
Published: Picador - February 3rd, 2009
Yoko Ogawa's The Housekeeper and the Professor is an enchanting story about what it means to live in the present, and about the curious equations that can create a family.

He is a brilliant math Professor with a peculiar problem—ever since a traumatic head injury, he has lived with only eighty minutes of short-term memory.

---