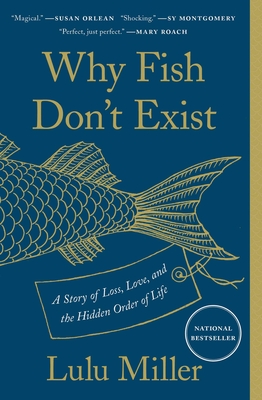 Monday, September 11th, 2023, 5:30 pm
In September the Gibson's Book Club is reading and discussing Why Fish Don't Exist: A Story of Loss, Love, and the Hidden Order of Life, by Lulu Miller.
A "remarkable" (Los Angeles Times), "seductive" (The Wall Street Journal) debut from the new cohost of Radiolab, Why Fish Don't Exist is a dark and astonishing tale of love, chaos, scientific obsession, and—possibly—even murder.​
Part biography, part memoir, part scientific adventure, Why Fish Don't Exist is a wondrous fable about how to persevere in a world where chaos will always prevail.
Our book club is free and open to the public, newcomers are encouraged to try us out! Club books are chosen democratically by the participants; they've chosen an eclectic, ambitious list of books for the coming year: join us for every meeting, or deal yourself in as the spirit moves you.
Event date:
Monday, September 11, 2023 - 5:30pm

$17.99

ISBN: 9781501160349
Availability: On Our Shelves Now
Published: Simon & Schuster - April 6th, 2021
A Best Book of 2020: The Washington Post * NPR * Chicago Tribune * Smithsonian

A "remarkable" (Los Angeles Times), "seductive" (The Wall Street Journal) debut from the new cohost of Radiolab, Why Fish Don't Exist is a dark and astonishing t
---