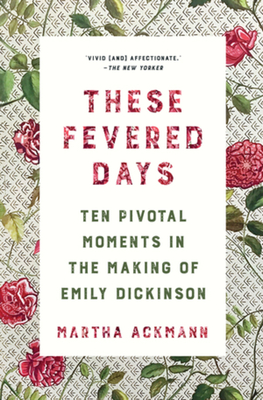 Monday, April 4th, 2022, 5:30pm, in store, in person
This month Gibson's Book Club is reading These Fevered Days: Ten Pivotal Moments in the Making of Emily Dickinson, by Martha Ackmann.
We will not be sharing food or beverages. We're also sticking to a one hour time limit, and will be clearing the store at 6:30pm.
Our book club is free and open to the public, newcomers are encouraged to try us out! Club books are chosen democratically by the participants; they've chosen an eclectic, ambitious list of books for the coming year: join us for every meeting, or deal yourself in as the spirit moves you.
Event date:
Monday, April 4, 2022 - 5:30pm

$16.95

ISBN: 9780393867534
Availability: On Our Shelves Now
Published: W. W. Norton & Company - July 27th, 2021
A New York Times Book Review Editors' Choice, this engaging, insightful portrayal of Emily Dickinson sheds new light on one of American literature's most enigmatic figures.
---