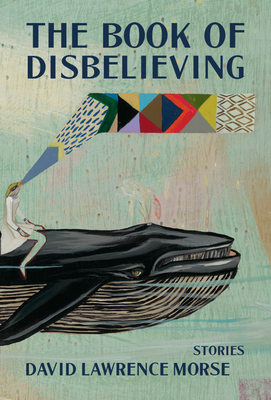 Wednesday, September 13th, 2023, 6:30 pm
Winner of the 2022 Mary McCarthy Prize in Short Fiction, selected by Susan Minot.
Join Gibson's Bookstore for an event with author David Lawrence Morse as he presents The Book of Disbelieving, a delightful prize-winning slim volume of short stories that you can devour one at a time and sit with, or gorge yourself in delight.
The nine stories in The Book of Disbelieving open portals to fabulist worlds and magical objects: a village built on the back of a whale, a holiday that requires literal leaps of faith, a tower that houses an entire civilization, a diary that blurs the line between imagination and memory. The worlds Morse creates are fantastical, but the challenges his characters face are grounded in reality, calling into question issues of love, memory, and the subjectivity of experience. Steeped in the existential crises of our era, The Book of Disbelieving is a wondrous collection of fables and lore.
"The Book of Disbelieving is filled with beauteous, beguiling wonders—giants of the deep, towers that stretch to infinity—but the most affecting magic here is profoundly human: the unknowability of others (and of ourselves); the mysteries of love and loss. Morse conjures the fantastic with such gorgeous, vivid precision we yearn for it to be real, much as his characters yearn to believe in each other."
—Peter Ho Davies, author of the Man Booker Prize-longlisted book The Welsh Girl
About the author: Originally from rural south Georgia, David Lawrence Morse studied in Russia after the collapse of communism, cleaned toilets in Yosemite, and taught English then lived on a rice farm in the foothills of Yamaguchi, Japan, before eventually earning an MFA in fiction at the University of Michigan. His short stories have appeared in One Story, Missouri Review, Alaska Quarterly Review, The O. Henry Prize Stories, and elsewhere. His essay on the moral and political complexity of mendacity was published in The Washington Post, and his first play, Quartet, was performed by the Takács Quartet and the Colorado Shakespeare Festival. Morse is the director of the writing program at the Jackson School of Global Affairs at Yale, and he lives in New Haven, CT.
If you cannot make this event, copies of The Book of Disbelieving may be ordered from the Gibson's Bookstore website. We will have them signed for you at the event.
Sign up for the events-specific email newsletter from Gibson's Bookstore! Separate from our main store newsletter, this newsletter sends you notices when we book events, and what our upcoming events are! We promise not to sell your email address. https://signup.e2ma.net/signup/1947324/1359315/
Event date:
Wednesday, September 13, 2023 - 6:30pm

$18.95

ISBN: 9781956046199
Availability: On Our Shelves Now
Published: Sarabande Books - July 18th, 2023
Winner of the 2022 Mary McCarthy
Prize in Short Fiction, selected by Susan Minot.
The nine
stories in The Book of Disbelieving open portals to fabulist worlds and
magical objects: a village built on the back of a whale, a holiday that
requires literal leaps of faith, a tower that houses an entire civilization, a
---