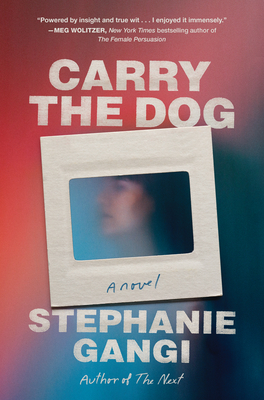 Tuesday, November 2nd, 2021, 7:00 pm EST, online only via Crowdcast. Registration required: https://www.eventbrite.com/e/192474154377
Gibson's Bookstore is pleased to join with indie bookstores around the country to virtually present Stephanie Gangi, in conversation with Meg Waite Clayton, as they present Stephanie's new novel, Carry the Dog. Signed bookplates are included with your purchase of Carry the Dog from Gibson's Bookstore.
"I can't remember the last time I was as completely bewitched by a fictional character as I was by Bea Seger in Stephanie Gangi's Carry The Dog. What a treat to view life through the eyes of this funny, smart, gutsy woman, who has suffered its outrageous slings and arrows, and just keeps coming back for more."
—Richard Russo, author of Empire Falls and Chances Are . . .
Stephanie Gangi is a poet, novelist, short story writer and essayist living and writing in New York City. Her debut novel, The Next, was published by St. Martin's Press and her second, Carry the Dog is published by Algonquin Books. Gangi's work has appeared in, among others, Arts & Letters, Catapult, Electric Literature, Hippocrates Poetry Anthology, LitHub, McSweeney's, New Ohio Review, Next Tribe, and The Woolfer. She's working on her third novel, The Good Provider.
Meg Waite Clayton is the New York Times bestselling author of eight novels, including The Postmistress of Paris (a Publisher's Weekly notable book; HarperCollins, Nov. 30, 2021), the National Jewish Book Award finalist and international bestseller The Last Train to London, the Langum Award honoree The Race for Paris, the Bellwether Prize finalist The Language of Light, and The Wednesday Sisters, an Entertainment Weekly 25 Essential Best Friend Novels of all time. Her novels have been published in 23 languages. She has also written more than 100 essays, opinions, and reviews for major newspapers, magazines, and public radio. She mentors in the OpEd Project, and is a member of the National Book Critics Circle and the California bar.
Sign up for the events-specific email newsletter from Gibson's Bookstore! Separate from our main store newsletter, this newsletter sends you notices when we book events, and what our upcoming events are! We promise not to sell your email address. https://signup.e2ma.net/signup/1947324/1359315/
Event date:
Tuesday, November 2, 2021 - 7:00pm