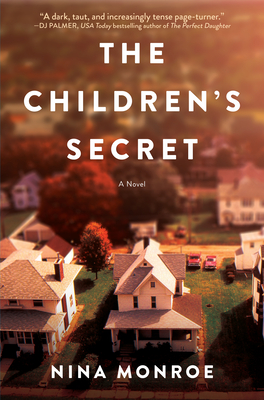 Tuesday, September 7th, 2021, 6:30pm IN PERSON. Unvaccinated persons over 5 years of age are required to wear masks inside Gibson's; vaccinated persons are strongly suggested to wear masks in the close quarters of event seating and the signing line.
Virginia Macgregor, writing as Nina Monroe, returns to Gibson's Bookstore to present her suspense debut in The Children's Secret! Set in New Hampshire, Virginia has been working on this book for years to get it just right.
In the vein of Big Little Lies, Nina Monroe's suspense debut explores the dangerous side of suburbia.

Nothing ever happens in a sleepy town like Middlebrook. Until the residents are shaken to their core, when one hot Saturday afternoon, at a back-to-school party, nine children sneak into a barn...and only eight come out unharmed.

The press immediately starts asking questions. What type of parents let their children play unsupervised in a house with guns? What kind of child pulls the trigger on their friend? And most importantly: of the nine children who were present in that barn, which one actually pulled the trigger, and why are the others staying silent?

Incredibly gripping and gorgeously written, this thought-provoking novel asks how much our children are capable of, and how far we will go to protect them.
Can't make this event? We're happy to have ordered copies signed for you to pick up or have shipped!
About the author: Virginia Macgregor is the author of What Milo Saw, The Return of Norah Wells, Before I Was Yours, You Found Me and two novels for young adults Wishbones and As Far as the Stars. Her work has been translated into over a dozen languages. What Milo Saw has been optioned for film.
Her latest novel, The Children's Secret, written under the pseudonym, Nina Monroe, is her first suspense novel and is set in her adopted home state of New Hampshire in the US. The novel has been optioned for TV.
After graduating from Oxford University, Virginia taught English in three British boarding schools. She holds an MA in Creative Writing. Virginia now lives in New Hampshire with her husband, their three small children and their four cats.
Sign up for the events-specific email newsletter from Gibson's Bookstore! Separate from our main store newsletter, this newsletter sends you notices when we book events, and what our upcoming events are! We promise not to sell your email address. https://signup.e2ma.net/signup/1947324/1359315/
Event date:
Tuesday, September 7, 2021 - 6:30pm