Wednesday, May 1st, 2019, 6pm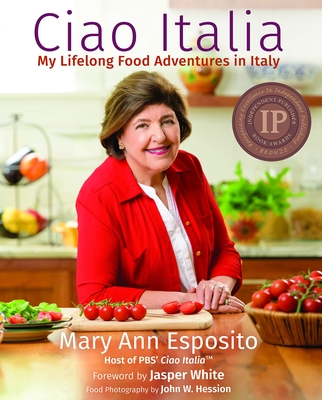 Gibson's Bookstore is pleased to host Mary Ann Esposito, host of CIAO ITALIA, the groundbreaking PBS cooking show (heading in to its 28th season making it the longest running cooking show on tv, predating even the Food Network!), in conversation with Kara Baskin, a food and lifestyle contributor at the Boston Globe, as they discuss Ciao Italia: My Lifelong Food Adventures in Italy. Ms. Esposito's trailblazing helped spark a billion dollar food media industry and paved the way for countless other television chefs. Fans have three words to describe her cooking style: traditional, authentic and passionate. From creating and launching CIAO ITALIA in 1989 to authoring 12 cookbooks, Esposito has inspired a worldwide audience who want to know more about Italian food and culture.
In personal essays, Mary Ann tells the story of how such beloved foods as Pamigiano-Reggiano, prosciutto di Parma, ricotta cheese and balsamic vinegar are made. She takes us to a San Marzano canning factory in Straino to learn what a San Marzano tomato really is and she introduces the reader to wonderful places off the beaten path, like the medieval stone city of Gubbio where a very unusual race takes place. Mary Ann also shares some of the unique experiences she has had both making and eating food with native Italians in their homes and restaurants.
Ciao Italia: My Lifelong Food Adventures in Italy features recipes for over 160 authentic Italian dishes, along with 60 original full-color food photographs by John Hession, as well as over 30 scenic images and personal photos from the author's travel archives. The varying components of the book – recipes, tradition, narrative, photography – proves that la dolce vita is certainly alive and well in Italy.
Kara Baskin is a regular contributor to the Boston Globe and the Boston Globe Magazine, writing about food, lifestyle, and culture. She has served as a contributing editor at Boston Magazine and worked for New York Magazine and The New Republic. Her book, Size Matters, is a humorous yet informative guide to the male anatomy. She has also written for Bon Appetit, Elle, Time, Women's Health, The New York Times, NPR, and the Washington Post.
Event date:
Wednesday, May 1, 2019 - 6:00pm

$39.95

ISBN: 9781942155171
Availability: On Our Shelves Now
Published: Ciao Italia - November 1st, 2018
---