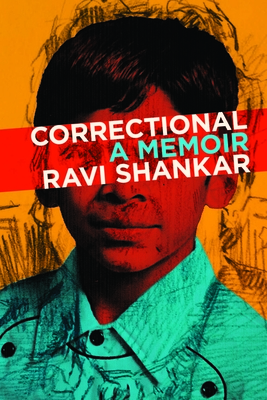 Wednesday, October 27th, 2021, 7pm EST. Online only via Zoom Webinar. Registration required: https://www.eventbrite.com/e/181109682937
Gibson's Bookstore is pleased to welcome Professor Ravi Shankar for a virtual pre-launch event as he presents his memoir, Correctional! Correctional recounts Shankar's experience with the criminal justice system stemming from an incident of racial profiling that took place in New York City during their "stop-and-frisk" years. It would eventually lead to him doing jail time. While in prison, his elevation to full professor was finalized, making him the first American academic to be promoted while incarcerated. This is his story of that experience and the fury it engendered, which ended with his resignation from Central Connecticut State University. It challenges us to rethink the way we view and treat the previously incarcerated, and to reexamine the justness of our criminal justice system—especially for people of color. Shankar will be joined in conversation by author Jennifer Acker (The Limits of the World, a Massachusetts Book Award honoree).
Signed bookplates are included with your purchase of Correctional from Gibson's Bookstore!
Ravi Shankar is a Pushcart Prize-winning poet and editor of more than fifteen books and chapbooks of poetry. The founder of Drunken Boat, one of the world's oldest electronic journals of the arts, he has been featured in the New York Times, NPR, BBC, and PBS NewsHour. He lives in Providence, Rhode Island. This is his first book-length work of prose.
Sign up for the events-specific email newsletter from Gibson's Bookstore! Separate from our main store newsletter, this newsletter sends you notices when we book events, and what our upcoming events are! We promise not to sell your email address. https://signup.e2ma.net/signup/1947324/1359315/
Event date:
Wednesday, October 27, 2021 - 7:00pm

$26.95

ISBN: 9780299335304
Availability: Coming Soon - Available for Pre-Order Now
Published: University of Wisconsin Press - January 4th, 2022
The first time Ravi Shankar was arrested, he spoke out against racist policing on National Public Radio and successfully sued the city of New York. The second time, he was incarcerated when his promotion to full professor was finalized.
---

$16.50

ISBN: 9781883285869
Availability: Usually Ships in 1-5 Days
Published: Delphinium - April 7th, 2020
The Chandaria family—emigrants from the Indian-enclave of Nairobi—have managed to flourish in America.
---