Tuesday, March 19th, 2019, 6 p.m.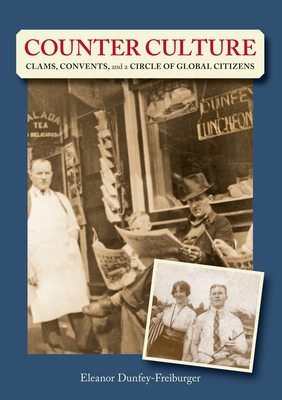 Eleanor Dunfey-Freiburger visits Gibson's Bookstore to present Counter Culture: Clams, Convents and a Circle of Global Citizens, an uplifting story of her family's origins as mill workers with 12 children to feed, starting a hospitality empire from a luncheonette and fried clam stand to what would eventually grow to be the Omni International Hotels. The author's profits from the sale of this book will go to the Sisters of Notre Dame de Namur who have served immigrant communities at St Patrick's School, Lowell, MA, for 167 years.
"This spirited and spiritual journey of the Dunfey family is shared in loving, often humorous stories that reach from a mill town in America to townships in South Africa. Thank God for parents who inspired their twelve children to make a difference in our world." —Archbishop Emeritus Desmond and Mrs. Leah Tutu
"If you want to learn how to achieve in business, faith, social justice, and politics ... then this is the book for you." —Monica McWilliams, founder of Women's Coalition Party, Northern Ireland, and global advocate for human rights

About the Author: Eleanor Dunfey-Freiburger is the youngest of twelve children. She is a graduate of Emmanuel College in Boston and the University of San Francisco and was a Sister of Notre Dame de Namur for thirteen years. She is professor emerita of ethics and civic engagement at Southern New Hampshire University, co-chair for 30 years of Global Citizens Circle and the recipient of honorary degrees from Southern New Hampshire University and Franklin Pierce University. Eleanor is married to Dr. James Freiburger, professor emeritus at SNHU. They have two grown children and five grandchildren.
Event date:
Tuesday, March 19, 2019 - 6:00pm

$19.95

ISBN: 9781942155157
Availability: On Our Shelves Now
Published: Peter E. Randall Publisher - March 1st, 2019
---