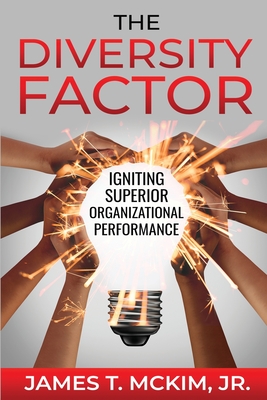 Tuesday, January 10th, 2023, 6:30 pm
James T McKim Jr visits Gibson's Bookstore to share some insights into organization performance in institutions and cohesion in society through efforts towards diversity, equity, and inclusion, based on his book The Diversity Factor: Igniting Superior Organizational Performance.
Diversity is a popular topic these days. But many say that diversity in institutions is difficult to achieve or navigate. Others say diversity is not an issue here in New Hampshire. Bring your questions about diversity and join a fascinating discussion about how New Hampshire and the United States are grappling with diversity in institutions and organizations.
Combining real-world stories, advice from experts, and recent data the discussion will explore whether diversity is a benefit or detriment for institutions and society. Key topics discussed include definitions (e.g. diversity, race, gender, age, neurodiversity, Implicit Bias, white privilege/normativeness, equity, inclusion, belonging, culture - the race/ethnicity type); how DEI impacts the Organizational Performance System; and how to ignite superior performance and societal belonging by reaching the top levels of DEI maturity using a unique Discovering Performance Through Diversity Roadmap."
Masks are strongly encouraged but no longer required for vaccinated attendees. We can't predict the future course of the pandemic, so Gibson's reserves the right to institute masking and/or vaccination rules for this event as circumstances dictate.
Sign up for the events-specific email newsletter from Gibson's Bookstore! Separate from our main store newsletter, this newsletter sends you notices when we book events, and what our upcoming events are! We promise not to sell your email address. https://signup.e2ma.net/signup/1947324/1359315/
Event date:
Tuesday, January 10, 2023 - 6:30pm

$29.99

ISBN: 9781088026090
Availability: On Our Shelves Now
Published: Organizational Ignition, LLC - March 2nd, 2022
Diversity, equity, and inclusion (DEI) is a hot topic these days as people want to bring about social justice. But does the need for efficiency, effectiveness, relevance, and financial viability push DEI to the back burner? The Diversity Factor: Igniting Superior Organizational Performance says "No "
---