Saturday, May 12th, 2018, 11 a.m.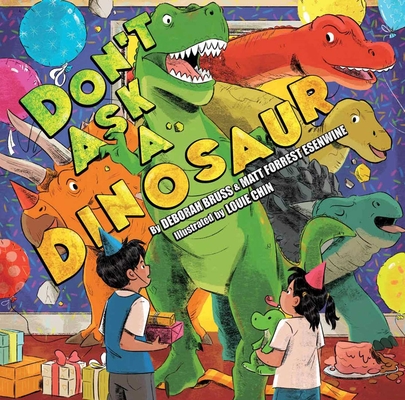 Gibson's Bookstore storytime special guests Deborah Bruss and Matt Forrest Esenwine will teach your children (okay, the children will teach us) how to pronounce dinosaur names while also teaching everyone how to successfully plan a birthday party with minimal dinosaur interference, as they present Don't Ask a Dinosaur! Tyranosaurus Rex is eager to help wrap gifts, but his claws keep snagging the ribbon, and the Sauroposeidon keeps lifting the banners up waaaaay too high!
Storytimes are free and open to the public, all are welcome, registration is not required. Can't make the event? We're happy to have a book signed for you; call (603-224-0562) or email (gibsons@gibsonsbookstore.com).
Event date:
Saturday, May 12, 2018 - 11:00am

$17.99

ISBN: 9781576878415
Availability: On Our Shelves Now
Published: POW! Kids Books - April 17th, 2018
Don't Ask a Dinosaur is about a party that goes wildly awry when a pack of dinosaurs with very unique physical attributes attempt to help set up.

Written in a masterfully-executed rhyme, the book presents a cavalcade of lesser-known dinos and pairs their odd characteristics with little tasks that are hilariously impossible because of those features.
---