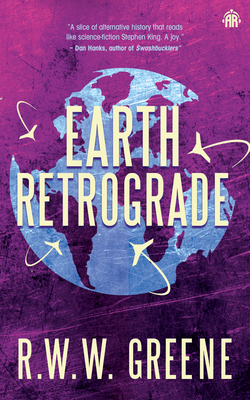 Thursday, November 16th, 2023, 6:30 pm
Author R.W.W. Greene is back at Gibson's Bookstore with his newest science fiction novel, Earth Retrograde! The United Nations is working to get everyone off Earth by the deadline – set by the planet's true owners, the aliens known as the First. It's a task made somewhat easier by a mysterious virus that rendered at least fifty percent of humanity unable to have children. Meanwhile, the USA and the USSR have set their sights on Mars, claiming half a planet each.
File this book on your shelves under: Science Fiction [ Space Casablanca | Y2K | Cosmic Shrooms | Not Dead Yet ]
"Mercury Rising is a rollicking, funny, picaresque adventure novel… Recommended for fans of old sf-adventure serials and Ernest Cline's Armada."
– Booklist
R.W.W. Greene is based in New Hampshire, USA. He is a frequent panellist at the Boskone Science Fiction & Fantasy Convention in Boston, and his work has seen daylight in Stupefying Stories, Daily Science Fiction, New Myths, and Jersey Devil Press. Greene keeps bees, collects typewriters, and lives with his writer/artist spouse Brenda and two cats. He is a member of the Science Fiction & Fantasy Writers Association of America.
Can't make this event? Order a copy of Earth Retrograde through our website, and leave your signing/personalization request in the order notes!
Sign up for the events-specific email newsletter from Gibson's Bookstore! Separate from our main store newsletter, this newsletter sends you notices when we book events, and what our upcoming events are! We promise not to sell your email address. https://signup.e2ma.net/signup/1947324/1359315/
Event date:
Thursday, November 16, 2023 - 6:30pm

$18.99

ISBN: 9781915202482
Availability: On Our Shelves Now
Published: Angry Robot - October 24th, 2023
Becoming the planet's most (in)famous human has not changed Brooklyn Lamontagne one bit, but the time has come for him to choose where his allegiances really lie.

---

$15.99

ISBN: 9780857669728
Availability: On Our Shelves Now
Published: Angry Robot - May 10th, 2022
Top Gun in space!

An alternative history with aliens, an immortal misanthrope and SF tropes aplenty

 The year is 1975 – Robert Oppenheimer has invented the Atomic Engine, the first human has walked on the moon, and Jet Carson and the Eagle Seven have sacrificed their lives to stop alien invaders. 
---