Friday, March 29th, 2019, 6 p.m.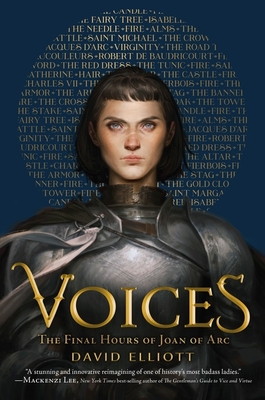 Bestselling author David Elliott returns to Gibson's Bookstore to explore how Joan of Arc changed the course of history and remains a figure of fascination centuries after her extraordinary life and death. Joan of Arc gets the Hamilton treatment in this evocative novel for teens, Voices: The Final Hours of Joan of Arc. Told through medieval poetic forms and in the voices of the people and objects in Joan of Arc's life, (including her family and even the trees, clothes, cows, and candles of her childhood), Voices offers an unforgettable perspective on an extraordinary young woman. Along the way it explores timely issues such as gender, misogyny, and the peril of speaking truth to power. Before Joan of Arc became a saint, she was a girl inspired.
About the author: David Elliott is a NY Times bestselling children's author. His many titles include: And Here's to You!, The Transmogrification of Roscoe Wizzle, The Evangeline Mudd books, Finn Throws a Fit!, Jeremy Cabbage and the Living Museum, and In the Wild. His most recent titles include On the Wing, This Orq. books, and Nobody's Perfect. Born in Ohio, David has worked as a singer, a cucumber washer, and a popsicle stick maker. Currently, he lives in New Hampshire with his wife and a three-footed dog.
Event date:
Friday, March 29, 2019 - 6:00pm

$17.99

ISBN: 9781328987594
Availability: Usually Ships in 1-5 Days
Published: Clarion Books - March 26th, 2019
"Stunning . . . elegant . . . arresting . . . supple and harrowing." - The Wall Street Journal

★"An innovative, entrancing account of a popular figure that will appeal to fans of verse, history, and biography." - Kirkus, starred review
---