Thursday, September 6th, 2018, 5:30 p.m.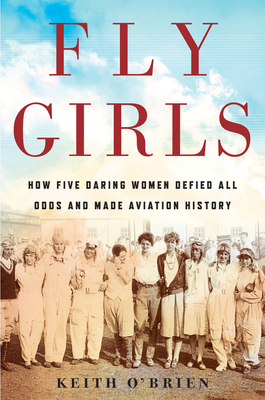 Keith O'Brien presents Fly Girls: How Five Daring Women Defied All Odds and Made Aviation History, the true story of women willing to risk everything, even their lives, to do the thing they loved. It's the hidden history of women striving to change the world, despite defeat after defeat. These female fliers – sometimes called "fly girls" – shattered the original glass ceiling, battled injustices which feel all too timely today, fought the men trying to stop them, and ultimately prevailed.
Between the world wars, no sport was more popular, or more dangerous, than airplane racing. Thousands of fans flocked to multi-day events, and cities vied with one another to host them. The pilots themselves were hailed as dashing heroes who cheerfully stared death in the face. Well, the men were hailed. Female pilots were more often ridiculed than praised for what the press portrayed as silly efforts to horn in on a manly, and deadly, pursuit. Fly Girls recounts how a cadre of women banded together to break the original glass ceiling: the entrenched prejudice that conspired to keep them out of the sky.

O'Brien weaves together the stories of five remarkable women: Florence Klingensmith, a high-school dropout who worked for a dry cleaner in Fargo, North Dakota; Ruth Elder, an Alabama divorcee; Amelia Earhart, the most famous, but not necessarily the most skilled; Ruth Nichols, who chafed at the constraints of her blue-blood family's expectations; and Louise Thaden, the mother of two young kids who got her start selling coal in Wichita. Together, they fought for the chance to race against the men -- and in 1936 one of them would triumph in the toughest race of all.

Like Hidden Figures and Girls of Atomic City, Fly Girls celebrates a little-known slice of history wherein tenacious, trail-blazing women braved all obstacles to achieve greatness.
About the author: The New York Times Book Review has hailed Keith O'Brien for his "keen reportorial eye" and "lyrical" writing style. He has written two books, been a finalist for the PEN/ESPN Award for Literary Sportswriting, and contributed to National Public Radio for more than a decade.
Event date:
Thursday, September 6, 2018 - 5:30pm

$28.00

ISBN: 9781328876645
Availability: Special Order
Published: Mariner Books - August 7th, 2018
A NEW YORK TIMES BESTSELLER

"Exhilarating." —New York Times Book Review

"Riveting." —People

"Keith O'Brien has brought these women—mostly long-hidden and forgotten—back into the light where they belong.
---