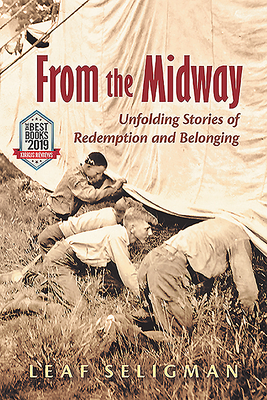 How do we know ourselves? How can we be seen for who we truly are? How do we find redemption in a world that conspires to separate us? Leaf Seligman explores these and other questions in a collection of linked stories from the midway of a carnival traveling through the Jim Crow South, in From the Midway: Unfolding Stories of Redemption and Belonging.
"Leaf Seligman is no carnival barker; she is an honest-to-God magician: From deformity she creates beauty; from suffering, redemption; from freakishness, grace. In the masterful, linked stories in From the Midway, we meet the loving, lonely, bawdy, ballsy people of the traveling carnival in all their glorious, human complexity--and we come away changed. I'll never forget these characters and I'll never forget this book."
––– Sy Montgomery, National Book Award Finalist and best-selling author of The Soul of an Octopus
About the author: Leaf Seligman began writing during her Tennessee childhood where she encountered the midway, tent revivals, and the Civil Rights movement. She has taught writing in colleges, jails, prisons, and community settings since 1985 and worked as a minister, a jail chaplain, a youth services caseworker, and a restorative justice practitioner. She is the author of Opening the Window: Sabbath Meditations and A Pocket Book of Prompts. Her current projects include a novel, a memoir, and a series of death row monologues, all attuned to redemption and belonging.
Event date:
Tuesday, January 14, 2020 - 6:00pm

$22.50
ISBN: 9780872332966
Availability: On Our Shelves Now
Published: Bauhan Pub - September 5th, 2019
This richly researched collection of linked short stories transports readers to a traveling carnival in the Jim Crow South. We meet the Geek, dancing girls, a carousel operator, several performers displayed as oddities, and the African American laborers who tend them. The final story crosses the ocean, underscoring the power and mystery of unexpected connections.
---