Tuesday, October 29th, 2019, 6 p.m.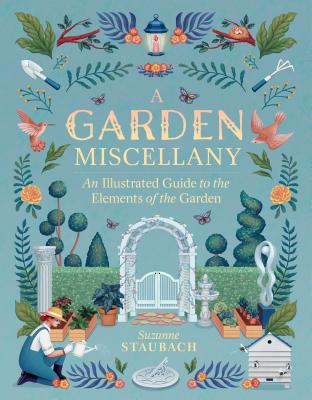 Join Gibson's Bookstore for the launch event of Suzanne Staubach's A Garden Miscellany: An Illustrated Guide to the Elements of the Garden! This delightful book will help you see the garden in a whole new way! Can an allée be pleached? Does a skep belong on a plinth? Answers to these questions—plus a gazebo-ful of information, stories, and visual delights—await in this charming exploration of the stuff gardens are made of, around the globe. Garden historian Suzanne Staubach covers everything from arbors to water features, reveling in the anecdotes that accompany each element. Filled with revelations and fanciful illustrations by Julia Yellow, A Garden Miscellany promises new discoveries with each reading—a book to be returned to again and again.(Psst, this would make an excellent gift book for the gardener in your life.)
Gardens across the globe come in many sizes and styles, but they share a remarkable number of similar components. Suzanne Staubach revels in this connection in A Garden Miscellany. In short essays meant to be dipped in and out of, Staubach shares the history, evolution, and contemporary use of all the parts and pieces that make up a home garden—from borders, compost bins, and decks to pergolas, roof gardens, statues, and troughs. You'll learn that fairy gardens have their roots in the Tang dynasty, the difference between an arbor and a pergola, how geometry plays a role in garden design, what a ha-ha is, and much more. Featuring bold and whimsical illustrations by Julia Yellow and filled with interesting facts and anecdotes, A Garden Miscellany is a must-have for gardeners, plant lovers, and the naturally curious everywhere.
About the author: Suzanne Staubach writes, pots, and gardens in northeast Connecticut. After a long career in independent bookselling, she now writes and speaks about garden and ceramic history, and sells her handmade pottery nationwide. She is the author of three previous books.
Event date:
Tuesday, October 29, 2019 - 6:00pm

$27.50
ISBN: 9781604698817
Availability: On Our Shelves Now
Published: Timber Press - October 29th, 2019
 "A pleasure to read and a valuable resource to fall back on for the enthusiastic gardener." —Publishers Weekly

Do you know a folly from a ha-ha? Can an allée be pleached? Does a skep belong on a plinth?
---