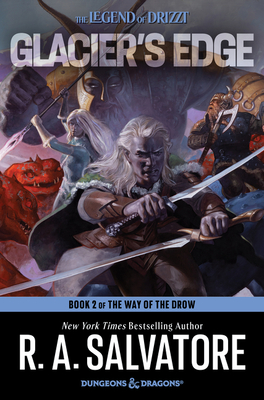 Friday, August 12th, 2022, 6:30 p.m., in-store
R.A. Salvatore returns to Gibson's Bookstore to present his newest novel, Glacier's Edge! This is the follow-up to Starlight Enclave, and the thrilling second novel in his newest trilogy, the Way of the Drow.
Can't make this event? Order a copy through our website, and we're happy to have it signed for you!
Thirty-four years ago, R. A. SALVATORE created the character of Drizzt Do'Urden, the dark elf who has withstood the test of time to stand today as an icon in the fantasy genre. With his work in the Forgotten Realms, the Crimson Shadow, the DemonWars Saga, and other series, Salvatore has sold more than thirty million books worldwide and has appeared on the New York Times bestseller list more than two dozen times. He considers writing to be his personal journey, but still, he's quite pleased that so many are walking the road beside him! R.A. lives in Massachusetts with his wife, Diane, and their two dogs, Dexter and Pikel. He still plays softball for his team, Clan Battlehammer, and enjoys his weekly DemonWars: Reformation RPG and Dungeons & Dragons 5e games.
Glacier's Edge expands the Forgotten Realms through the adventures of Drizzt, Catti-brie, Jarlaxle, Artemis Entreri, and Zaknefein… and a society of drow unlike one any elf from Menzoberranzan could possibly imagine. The series has already earned a glowing starred review from Kirkus Reviews and is poised to be a great addition to the world of the Forgotten Realms.
Masks are strongly encouraged but no longer required for vaccinated attendees. We can't predict the future course of the pandemic, so Gibson's reserves the right to institute masking and/or vaccination rules for this event as circumstances dictate.
Sign up for the events-specific email newsletter from Gibson's Bookstore! Separate from our main store newsletter, this newsletter sends you notices when we book events, and what our upcoming events are! We promise not to sell your email address. https://signup.e2ma.net/signup/1947324/1359315/
Event date:
Friday, August 12, 2022 - 6:30pm

$27.99

ISBN: 9780063029828
Availability: On Our Shelves Now
Published: Harper Voyager - August 9th, 2022
From New York Times bestselling author R. A.
---

$17.99

ISBN: 9780063085886
Availability: On Our Shelves Now
Published: Harper Voyager - May 24th, 2022
From New York Times bestselling author R. A. Salvatore comes a new trilogy and adventure of Drizzt and fantasy's beloved characters from Dungeons & Dragons' Forgotten Realms.

After the settling dust of the demon uprising and two years of peace, rumblings from the Menzoberranzan drow have Jarlaxle nervous.
---